Celebaby: Michelle Heaton Gives Birth To A Baby Boy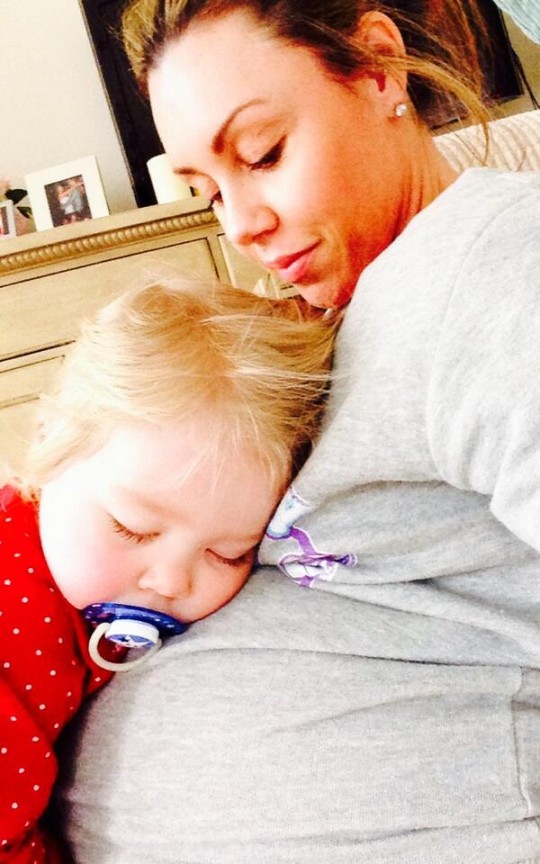 Michelle Heaton and Hugh Hanley have become proud parents all over again.
Personal Trainer Hugh Hanley, who married Michelle in a secret Caribbean wedding ceremony in 2010, took to Twitter to share his baby news with this followers.
Hugh tweeted:
"Our little man arrived this morning at 8.49am my beautiful wife @wonderwomanshel was amazing, I'm so proud of her. Both are doing great."
The couple are already parents to a two-year-old daughter, Faith.
They have yet to announce their new baby's name or share baby snaps with the world, but Michelle also took to Twitter to thank her followers for their well-wishes.
She tweeted:
"Thank you all so much for your well wishes.. Mine & @hughhanley little boy is snuggled into us and we are the happiness parents ever.. Xx"
The couple announced the news of their pregnancy back in August, also on Twitter. Michelle wrote:
Michelle announced the exciting news of her subsequent pregnancy in August 2013. Hello magazine reported at the time:
"..Yup, myself and @hughhanley are thrilled we are expecting a mini Michelle or Hugh," tweeted Michelle. "This is a very exciting time for us after everything that's happened... Thank you as always for your love & support! Whoop whoop! Xxxx."
The Daily Mail reports:
"Michelle recently revealed that it has always been her dream to have two children."


"She said: 'I've always wanted two, I'm one of two, Hugh is one of two, and now we'll have a boy and a girl.'"

"She wrote on Twitter that her daughter is currently using her baby bump as a pillow."

"She tweeted: 'Our @hughhanley little girl using our little boy as a pillow. She better not get used to it he will be here soon lol'"


"She also wrote in OK! magazine: 'Part of me thinks I'm there now because he's been making me sick by pushing on my bowel."


"'He's really pressing down now and I have a feeling he might come before my C-section date.'"
Michelle, who was in pop group Liberty X, underwent a double mastectomy in 2012 after discovering that she carries a mutated BRCA2 gene and thus faced an 80% chance of developing breast cancer and a 30% chance of developing ovarian cancer.
Michelle's daughter has a 50% chance of inheriting the genetic condition. 
We wonder how long before the new baby makes an appearance in a glossy celeb mag...?
Congrats to the happy family!