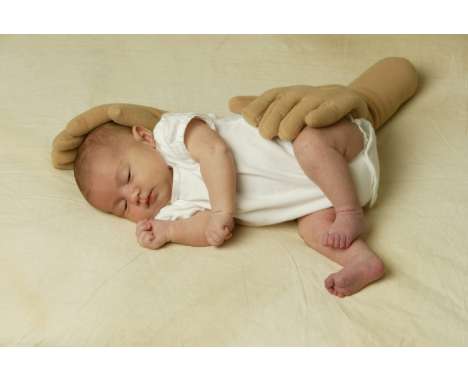 Ladies and gentleman, I give you.....the Zaky Hand!
I stumbled across the Zaky Hand this morning during my twice-weekly meander around the interweb to find something 'random' and interesting to show you.
I'm really quite enamoured with it and wonder what you all think; the story behind it is this....
"Zachary weighed 2 lbs when he was born at Memorial Hermann Hospital during Tropical Storm Allison. The hospital lost power during the storm and in order to live, Zachary needed a special NICU warmer and the breathing machine.
For 10 hours Zachary was kept alive "by hand" until he was evacuated. His mother held him against her chest with skin-to-skin contact to give him warmth, help his heart-rate and stress, while his father and nurses hand-ventilated him.
Ultimately after their NICU experience, Zachary's mother, Yamile Jackson, designed and created the Zaky to provide comfort to other NICU babies."
I utterly adore this idea! I know you could probably achieve the same result with a normal bung-it-in-the-microwave hot pack, but it's the fact they are shaped like hands that does it for me and just makes me melt.
I am also very amused by the thought that it would look like your baby is being craddled by Thing from The Addams Family. In fact, I think want a pair of my own to cuddle up to when I need a comforting pair of hands.
If you actually want to buy a Zaky Hand, or two - they come in 'left' and 'right', they're available HERE in the UK for £24.50 (there's lots of blurb here about the Zaky Hand too - the order bit is a the bottom of the page).
Utter genius or just a bit random?  What do you reckon?