Celebaby: Uma Thurman, Harper Beckham, Guy Ritchie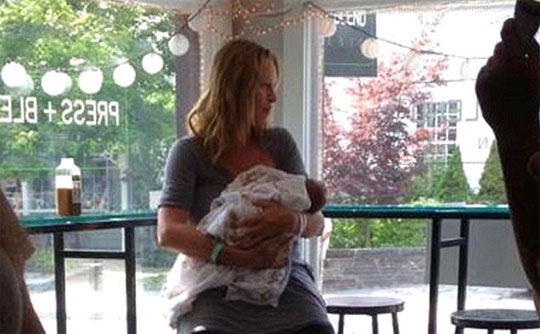 We have another bump to add to the watch list - I'm beginning to lose track, I must confess - as Guy Ritchie's (the ex-Mr Madonna - a narrow escape that's for sure judging by her recent on stage behaviour!) girlfriend has suddenly appeared out and about with a rather noticeable bump!
Jackie (the rather stunning Jackie at that) and Guy already have one baby together - Raph, who arrived last September - and Jackie has made no secret of the fact she'd like a big family with Guy, when she spoke to Grazia magazine recently, "I'd love more children. Guy and I have always wanted a big family. It's something we planned all along."  
Official comment on the impending arrival hasn't been made yet.
Harper Beckham has been photographed taking her first steps and, oh my goodness, she looked very pleased with herself - for all of the press and silly people saying she's inherited her mother's pout and 'miserable' look, I think she's rather cute and it's hard to believe her first birthday is almost upon us.  Time certainly does fly!
Uma Thurman welcomed her little daughter, and third child, into the world two days ago.
Not one to hide away and not leave the house until she's back to her normal red carpet looking self, Uma and baby (whose name hasn't been revealed yet, if she's been given one) were snapped at the Press and Blend cafe in Woodstock, New York yesterday.
I do like Uma Thurman - she just seems so very grounded. She's been papped out and about without a scrap of make-up on, and some incredibly unflattering maternity clothes, of late and she really didn't appear to have cared less.
THAT, to me, smacks of a woman who knows 'who' she is, has nothing to prove to anyone and is supremely comfortable in her own skin whether it be a pregnancy one of that of a glamourous and stunning Hollywood movie star.