Celebaby: Official Willow Sage Hart Photograph
If you've been reading Celebaby lately you'll know that we seemed to be waiting for a g e s for Pink to have her daughter, she really did appear to have been pregnant for ages.
Then the beautifully named Willow Sage arrived and her parents have been taking her out and about all over the place ever since; walks along the beach, trips to the local farmers' market near their home in Los Angeles (which is, apparently, one of THE things to do there) and bare-foot strolls around the neighbourhood.
Well that's all been very well and good but some of us have been wanting to see photographs that are a little more official than those papped from across the road and behind a tree.
Well here's one and, OH my goodness, I think it's FABULOUS; in fact, I love it!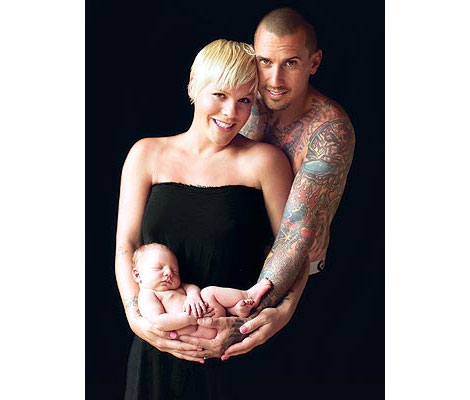 Tell me this is not a beautiful family portrait!
Willow is just one week old in this photograph and her mummy had this to say about her when she spoke to PEOPLE, "Willow is a pro! Or else she is borderline narcoleptic like her daddy — she slept the whole time."
She also went on to say, "You hear people say it all the time, how life changes so drastically. But you can't possibly grasp how beautiful that is until you have your child."
I think it's safe to say the pair of them are completely loved up on parenthood just now, and it's lovely; just lovely.