Celebaby: Welcome Klay Anthony Rooney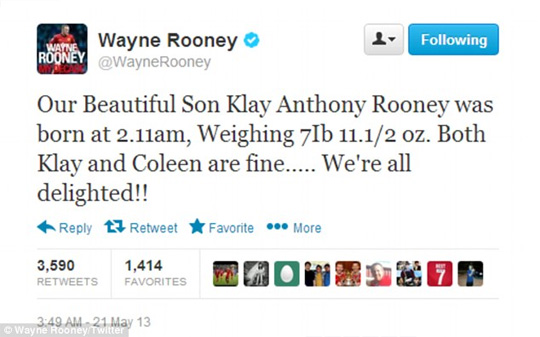 At 2.11am on Tuesday just gone, Coleen Rooney gave birth to her second son, Klay Anthony.
I can't say I'm overly fond of the name they've chosen for him (but then who cares?! It's none of my business and if they like it, that's all that matters) and I can't help but wonder whether they've got a Kardashian 'k' thing going on.
All is well with mum and baby; Wayne broke the news on Twitter (such a good conforming celebrity), tweeting:
"Our Beautiful Son Klay Anthony Rooney was born at 2.11am, Weighing 7Ib 11.5 oz. Both Klay and Coleen are fine..... We're all delighted!!"
That was followed by a tweet from Coleen and some snaps for the family album...shared with the Twitterverse, of course.
Klay was born at the Liverpool Women's Hospital, where Coleen had been admitted over the weekend, after revealing that she was past her due date and was having trouble sleeping.
Klay could be baby number two of three or four, if Coleen has her way.  She's also admitted to wanting a large family and said she'd be more than happy being a full-time mum.