Celebaby: Congratulations Mel B!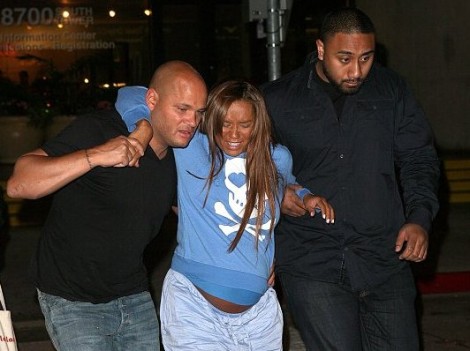 HURRAH - I was beginning to think we were in for the long haul, but Mel B's newest daughter decided not to keep everyone waiting for too long.
The latest addition to Mel's family arrived on Thursday night after Mel had said, on 30 August, that she'd tried everything to persuade the baby to put in an appearance.
I just had my doctor on the phone and he's given me some ultimatums which are good. It's coming out this week, one way or another it's coming out this week.
But I've tried everything, I've tried the hot food, the running, the sex, the violence, I've tried it all. It just seems to be stuck and hibernating in there getting bigger and bigger, so it's coming out this week for sure.
Something did the trick that for sure; less than 48 hours later Mel was pictured, clearly in pain, going into the Cedars-Sinai hospital in Beverly Hills - shame, walking whilst in the middle of a contraction is NOT nice.
A few hours later Mel announced her third baby daughter's arrival on Twitter, tweeting, "Finally our baby arrives, Stephen nearly passed out, Phoenix screamed, I laughed so hard the baby popped out!!! She is just sooo amazing!!"
Former Spice Girls band mates Emma Bunton and Mel C were among the first to Tweet their congrats


There are no details, as yet, about names or birth weights; it looks like we're going to have to wait for all the nitty-gritty for just a little longer!