Celebaby: A Boy For Shakira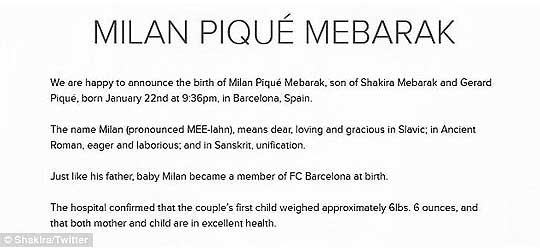 This time, the announcement that Shakira has had her baby isn't a practical joke - it's true.  She gave birth to a little boy at 9.36pm on Tuesday 22 January and made an official announcement, to that very effect, on her website.
Earlier in the day she tweeted, "'I'd like to ask you all to accompany me in your prayers on this very important day of my life. Shak," which, of course, sparked off an avalanche of good luck messages and best wishes.
Apparently, Milan's arrival was scheduled into the couple's calendar, so that Gerard could definitely be there for the birth.  One of those useful 'insiders' has also spilled the beans on there being a request/requirement that the medical team were female only, and all of them were required to sign a confidentiality agreement.
I think Shakira's great; even more so, having learned that rather than having a baby shower where  celebrity guests try to out-do each on the present giving front, the then parents-to-be held a virtual baby shower instead.
Basically, this is where anyone was able to 'attend' (via social media) and buy gifts for vulnerable babies to help UNICEF assist littlies around the world.  Some of the gifts included: mosquito nnets, polio vaccines and scales for weighing young babies.
Isn't that a wonderful idea?!  And wouldn't it be nice if more celebrities followed suit!