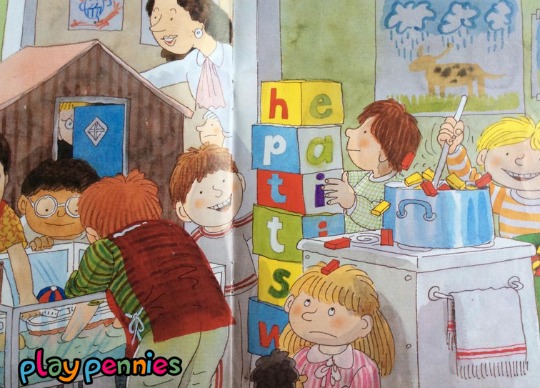 This picture is from Oxford Reading Tree: Stage 1: Kipper Storybooks: At School. Have a good look, what do you notice about the picture? I will give you a clue. The school book's illustrator Alex Brychta, is notorious for adding little cheeky hidden messages, that would only be understood by an adult.
I wonder if Alex Brychta has sneaked in these little private jokes, to break the monotony for adults doing reading with children. These books are hardly stimulating for older people, so perhaps, it was an attempt to put a smile on Mummy or Daddy's face.
Have you come across any children's books with hidden messages in the illustrations?  What do you think about such random adult themes disguised in children's books? Is it appropriate?
You can find more child friendly books, here*