Celebaby: The Beckhams Back In Blighty For Christmas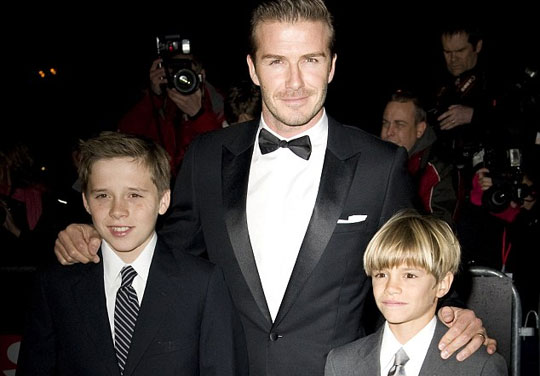 Forget Santa Claus coming to town, the Beckhams are back down the road from me in their UK home 'Beckingham Palace' for Christmas.
All six of them flew into Heathrow a couple of days ago amid reports that Victoria has spent thousands of pounds having their home in Hertfordshire decorated for Christmas and that this could be a permanent move back to European shores, with David potentially moving to footie team Paris St Germain now that his contract with LA Galaxy has come to end.
David, Brooklyn and Romeo hit the red carpet last night to join Princes William, Harry and Kate the Duchess of Cambridge for the Military Awards ceremony at the Imperial War Museum in London.
Harper, Victoria and youngest son, Cruz, stayed at home - I was going to say drinking a glass of sherry and enjoying a mince pie or two whilst messing around with the Christmas tree, but then I remembered who I was talking about so probably not.
It's amazing how quickly the Beckham boys have grown up and whilst being some of the most photographed children on the planet, they seem like nice kids - I hope they stay that way and don't turn into horrible teenage celebrity brats that go off the rails.
Doesn't David look like a very proud daddy!