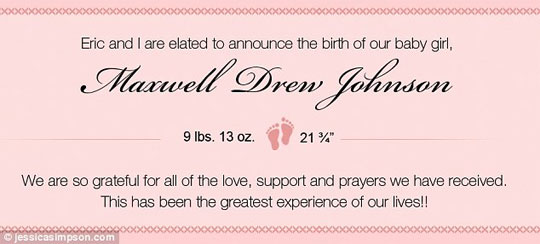 Jessica Simpson's daughter has finally graced the world with her presence!  She was born on Tuesday and weighed in at an ENORMOUS 9lbs 13oz and measured 21.75 inches.
She's been named Maxwell Drew Johnson...yes, you read that right, Jessica and Eric have named their baby GIRL 'Maxwell'.  I'm all for unisex names - Ashley, Robin etc but Maxwell...?
It's Eric's middle name (which still doesn't make it okay) and Drew is Jessica's mother's maiden name.  MAXWELL?!!  I can't get over that.
Jessica's due date was 21 April, shortly after that there were rumours that she was going to opt for a c-section rather than giving birth naturally as she was scared of the impending pain.
There's no news yet as to whether Jessica did have that c-section in the end - I'm sure we'll find out all the nitty-gritty details before too long.  Let's face it, we weren't spared any details during this epic pregnancy so I can't imagine it's going to be any different now that Maxwell has arrived! - but at almost 10lbs I rather hope so, otherwise...OUCH!!!
So now we wait and see whether the rumours that Jessica is going to be the new face of Weight Watchers are true; this has been attributed to her apparent complete lack of regard for watching what she ate whilst preggars and proclaiming she was just going to give into her cravings.
Congrats to the new family and I'm sure no one is more relieved that this pregnancy has finally come to an end than Jessica herself!