Celebaby: Denise Van Outen Axed For Being Pregnant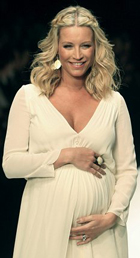 So...you're beautiful, well-known, you're good at your job, you know what you're talking about and the nation loves you - you're HIRED!  OH, hang on...you're pregnant too - you're FIRED!
It's been reported that Denise Van Outen has been axed by the BBC from the new Andrew Lloyd-Webber search-for-a-musical-star show 'Over the Rainbow' - this time he's on the hunt for a new Dorothy...heaven help us all!
Apparently with only a few days to go before filming got underway Denise, who had hoped to be invited back to be a judge on the show, was told by a senior producer that this wouldn't be the case because, and this is the quote that's being widely reported, "You're pregnant, so of course there's no way you can do the show'.
Under employment law a heavily pregnant woman can be refused employment if it's considered that the work will be too dangerous for her to do; but Denise, 35,  isn't expecting her little girl to arrive until May, she feels fit and healthy and sitting in a chair passing comment on fame-seeking wannabees hardly falls into the danger category does it!
The Beeb have said that none of the previous judges are being brought back for this show and their decision not to hire Denise has nothing to do with her being preggars...but come on, they're hardly going to breakdown, confess that, yes, she's not being brought back because she's expecting and beg for forgiveness.
A not-pregnant-and-12-years-younger-than-Van-Outen Charlotte Church is being tipped as her 'replacement' - heaven help us all again....I think I might be washing my hair on Saturday nights!
Whatever the truth is behind this story it does raise the ugly question, again, as to how MANY women are being denied jobs or discriminated against in the workplace simply because they're pregnant?