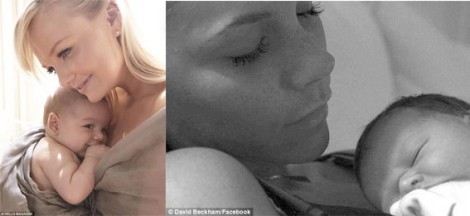 Two out of the three Spice Girls, expecting babies this year, have welcomed their bundles of joy.
Emma Bunton (Baby) was first and had a little boy - Tate Lee Jones - in May.
Victoria Beckham (Posh) was next, welcoming Harper Seven to the world almost three weeks ago.
In a recent interview with Hello! magazine, Emma Bunton revealed that her and Victoria swap baby tips all the time,
"As soon as we can possibly meet up, we will. But for the moment we're making do with emails. We've been swapping bits of advice and photos and sharing our excitement.
The first bouquets through the door were from Victoria, Geri (Halliwell) and Mel C. They came with little notes and that is always special to me, to get those from the girls.
The relationship we girls have will always be special. Now our kids are friends too and as they grow, it will be wonderful to watch them all and the different stages in their lives."
Now there's just Mel B (Scary) to go!
Mel announced her pregnancy back in March, which feels like forever ago already, and doesn't have long left before she, too, can swap baby stories with Emma and Victoria.
This new addition to the family will be baby number three for Mel; her first daughter, Phoenix Chi, is 12 already and her youngest daughter, Angel - whom she had with Eddie Murphy, is four.
I rather like Mel B, if nothing else for being a celeb' who 'does' pregnancy like I did - get BIG!  Not, stay tiny and look like someone's stuck half a football on your front.
Last month she tweeted a picture of her husband, Stephen Belafonte, doing up her (very high)Louboutins because her baby bump just doesn't allow for doing that sort of thing herself anymore.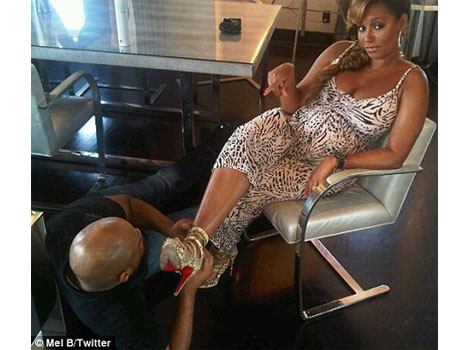 "My humps my bumps will not allow me to fasten my own shoes,so this is how I do them!!!"
I remember that feeling well, although I wasn't wearing Louboutins!  It was probably a pair of trainers a size bigger than normal to accommodate my incredibly swollen feet - WOW I don't miss being preggars AT. ALL!
So it's all eyes on Mel B now and when that baby bump is going to pop.