Celebaby: Heels, Heels, Heels!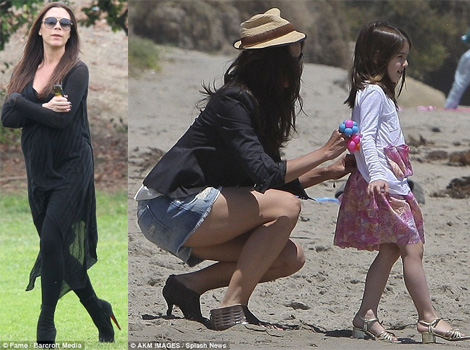 It would seem that to be a REAL celebrity you have to wear high heels come what may.
Whether you're playing football in the park with your son (Victoria Beckham), playing on the beach with your daughter (Katie Holmes) or backpacking up a mountain in Peru (I made that last one up) appropriate shoes are clearly NOT the done thing to be seen in.
Victoria Beckham
Tell me, have we seen Victoria Beckham wearing anything other than black since her pregnancy was made public? I don't think so.
I have a very clear image in my head of a magazine shoot featuring VB wearing baggy dungarees (not done up over the shoulders, I hasten to add), a white vest top and sand coloured CAT boots; I even think she was smiling and she looked great, a far cry from the miserable looking 'black widow' character we have today.
I wonder if that picture is lurking around on the Internet somewhere, perhaps I should send it to her as a reminder that she doesn't ALWAYS have to teeter around in high heels.
Victoria was recently snapped strolling across a grass park in 5-inch heels whilst her youngest son Cruz played football.  Surely something FLAT wouldn't have been such a trauma; I'm telling you, she's going to have terrible bunions by the time she's 50!
(I do quite like that long sheer cardigan though...even if it is BLACK!)
Holmes and Cruise
Here's another pair wearing heels in the most inappropriate place!
I don't get it.  It's no fun having to walk on anything soft in heels - you feel stupid and you LOOK stupid too.
The Cruise family attended a Memorial Day beach party yesterday in Malibu; Katie and Suri wandered off down to the beach to play on the sand for a while in their heels.
Now I don't know about you but I'd have taken my shoes OFF.  I love feeling hot sand beneath my feet and I wouldn't want to trash my party shoes either.
Clearly this is why I'm not a celebrity - I just don't have what it takes on the one hand and too much common sense on the other.