Celebaby: Harper Seven Beckham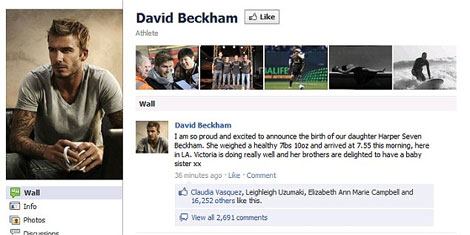 Unless you were abducted by aliens first thing Sunday morning and have only just been returned, it's quite possible that the news of Harper Seven Beckham's arrival has escaped you.
I predicted we'd see footage on the news of a beaming David Beckham, outside the hospital, announcing the arrival of his daughter and revealing her name to the world.
I was wrong - he made the announcement on Facebook (maybe he doesn't have/know how to use Twitter - the recent baby announcement method of celebrity choice).
The world seems to be divided on the name she's been given; it's a bit of a 'marmite' name I think, you either love it or you hate it.
I rather like it to be honest, but then I'm just relieved they didn't call her Santa as was rumoured not so long ago!
Apparently it was the boys who came up with the name Harper anyway.
"The entire family had input – Victoria and David love the name, but it was the boys who actually came up with it."
It comes from their favourite TV show 'Wizards of Waverly Place' and Harper is one of the characters who features in it.
The Seven part of Miss Beckham's name is obvious as it was the shirt number David had when he played for Manchester United.
According to one of those 'sources' (they spoke to The Sun - I do wish they'd choose a more upmarket rag to spill the beans to just ONCE in a while) David and Victoria are stunned at how much Harper looks like Victoria did when she was a baby.
I had to laugh, why are they surprised about this?!
I looked lots like my mum and my daughter has always looked LOADS like me (poor kid!), it's pretty likely that she would have ended up looking like either David OR Victoria.
Imagine if she looked like someone other than Victoria or David...oooooh, now THAT would spark some tabloid rumours.
Brace yourselves for endless attempted pap shots of Miss Harper Seven when she leaves the hospital to go home with her parents!