Celebaby: Bumps Don't Always Equal Frumps!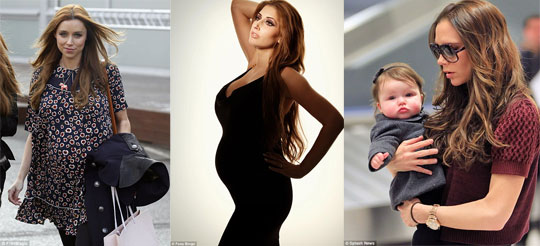 Stacey Solomon and Una Healy now have some rather obvious baby bumps to show off and they've been doing it in style, without looking over the top or like they're trying too hard to be trendy and preggy.
Amanda Holden has gone back to work and Victoria Beckham is still hauling poor little Harper around the globe.
Stacey And Una
When I was pregnant with my older two, the preggars dress code was baggy t-shirt and leggings - comfy but NOT at all attractive and did absolutely nothing to make you feel like a beautiful mum-to-be.
Have a look at Una's dress - HOW does she get away with not looking frumpy in it?!  It's so unfair - if I wore that NOW, even, I'd look like terrible in it and how awesome does Stacey look in that dress?
In one of my off-line lives I'm a photographer; I know that almost every single image we see in print have been subjected to Photoshop trickery of varying degrees and, until this very instant, it's never occurred to me that the same probably applies/has applied to pictures of expectant celeb' mums!
Nothing more than the most hectic application of 'shop would have made me look better in my preggy pictures, but I'm not feeling so bad now.
Amanda And Victoria
Amanda Holden has gone back to work as a judge on Britain's Got Talent, briefly, and left her new daughter Hollie in the capable hands of her Grandmother (Hollie's Grandmother, not Amanda's!).
She says, "I am euphoric to be heading back to my place at the judges desk - to be honest after the last couple of weeks I'm euphoric to be anywhere!  This is just a very fleeting visit to Scotland and with the weather being so extreme I've decided to let my mum have some quality time with her new granddaughter - but I am looking forward to introducing Hollie to everyone on my next trip."
Extreme weather?  It's -12C in my only 80-miles-north-of-London part of the world, I'm not surprised she's left little Hollie safely tucked up warm and cosy at home.
Of course, if Amanda was Victoria Beckham then it would be parade-the-baby-around business as usual, evidenced at JFK airport in freezing temperatures earlier this week!
Whilst Harper had a coat on, VB was in short sleeves! I flew back into the UK from Johannesburg last Saturday, was wearing jeans, long boots, a couple of jumpers and I was FROZEN.
I know Victoria's, now famously, said, "The airport is my runway," (oh please!) but short sleeves and a little skirt in the middle of winter?  MADNESS; perhaps she hasn't got round to designing a winter range for her clothes label yet *smirk*