Celebaby: Beckhams...Put Some Clothes On, PLEASE!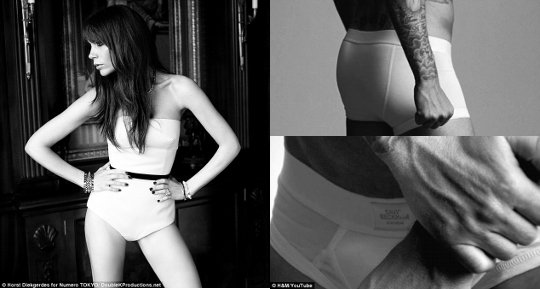 Everywhere I look at the moment, it seems, I'm coming face-to-face with image of both David and Victoria Beckham in their underwear! Now, I'm not complaining about seeing David in his pants per say, but there is a limit - please, Beckhams, put some clothes on!
Beckhams in Pants
You have to say the above in that dramatic voice used to announce 'P-I-G-S...I-N...S-P-A-C-E' during the Muppet Show - if you're under a 'certain age' then you'll have no clue what I'm talking about, if you grew up when I did then you will!
So VB was all over the press last week, parading around in one of her underwear creations which, quite frankly, just looked like she was wearing a big white nappy.
This week, it's David's turn. He's launching his own range of underpants - sorry, bodywear collection - this week for H&M and will cost around $15 (a far cry from the price tags on Victoria's 'stuff').
On the subject of putting clothes on - I had to laugh when I read that Victoria's new 'more affordable for the likes of Joe Bloggs' clothing range went on sale at Harvey Nichols.
I can't say I'm overly impressed. The dresses just look shapeless and boring and, with prices ranging between £395 and £995, Harvey Nich's can keep them!
According to Victoria it's not a 'diffusion line'...
"It's not a second line, or a diffusion line - it's another line, another side to my wardrobe. This is a way to give my customers what they want. They are really easy-to-wear day dresses.
You can wear everything with heels, but you can wear them with flats as well. And they fit a lot of different people. Nothing's tight: everything's quite comfortable and roomy."
Sorry, VB - boring, shapeless and akin to something a 14-year-old textiles GCSE student could knock up in a couple of lesson.  Sorry, GCSE textile students, I'm sure you could do better actually.