Celebaby: A Miss For the Beckhams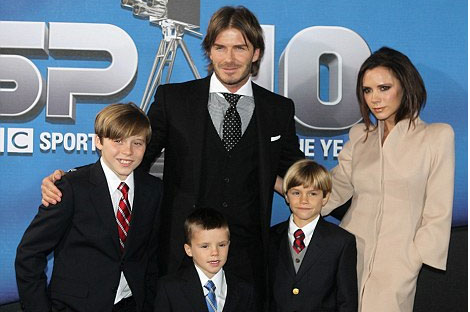 It was no big surprise really when David Beckham confirmed that he and Victoria are indeed expecting a little girl later in the year; various rumours have been doing the rounds for months.
Did they know or didn't they? Did they know right from the start because she was gender selected? Did Mystic Meg tell them via the horoscope pages in The Sun? (ok, I made that last one up).
Then Victoria's friend, Eva Longoria, was said to have started planning a pink baby shower and so the gossip and guessing went on and on.  David finally put an end to all the whispering over the weekend. Speaking at an LA Galaxy luncheon he said,
"Obviously, we're very lucky to be expecting again, and this is the first time I'm going to say it: It's a little girl.

We're still in shock. Obviously, having three boys, you kind of expect another one, so finding out a little girl is in there is surprising, but, obviously, we are over the moon."
I have to say I'm rather pleased for them; I like David Beckham, he seems like a nice down to earth chap, but I do wish Victoria wouldn't look so miserable in photos all the time.
Without a doubt it must get a little 'tiring' having the Paps poking lenses at you all the time, but just a smile once in a while wouldn't go amiss!
Perhaps she's saving it for the Royal Wedding group shot photographs; apparently, according to a friend, that one of Victoria's biggest problems of the moment is deciding what to wear to the Royal wedding as she'll be six months pregnant at the end of April.
Well, if that's all she's really got to worry about then that's even MORE of a reason to put a smile on her face.