Celebaby: A Boy For Ben And Jen'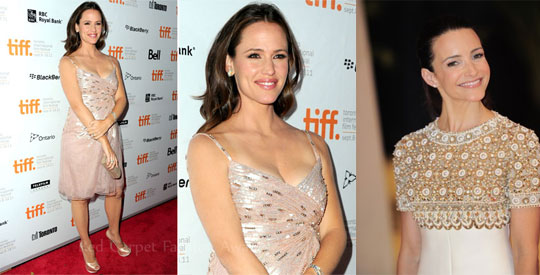 There's been all sorts of snippets of Celebaby news this week, in between the fuss and furore surrounding Beyonce's baby bump, here are just a couple of them for your baby gossip delight.
A boy for Ben and Jen'
Jennifer Garner and Ben Affleck have announced that they're expecting a baby boy.
They announced Jennifer's pregnancy a few weeks ago - she's been looking utterly FABULOUS, and sickening stylish whilst preggars, on various red carpets - but now they know the baby's a little boy.
Already having two girls, you can imagine they're pretty excited about a male addition to the family to even up the numbers a bit.
Ben's really looking forward to having, and I quote, "A little sports buddy," and is already thinking about male bonding over baseball games, playing catch and generally doing all of those 'boy things'.
Those loose-lipped sources are at it again, on Jennifer's behalf, though - she's said to be a little nervous about having a boy and worries that she won't know what to do.
Don't worry Jen' - boys are a piece of cake, just watch out for them peeing on you at nappy change time; always hilarious, just as long as it's happening to someone else!
Kristin Davis adopts
Kristin Davis - of Sex and the City fame - has copied her on-screen character and recently adopted a baby girl (I say recently, it was actually a few months ago but details are only really starting to be released now); her name is Gemma Rose.
Speaking to America's People Magazine earlier this week, she said, "This is something I've wanted for a very long time.  Having this wish come true is even more gratifying than I ever had imagined. I feel so blessed."
She's another female celeb' who's joined the ranks of the adopted single-motherhood club, and had this to say on the subject, "It does give me pause to think about doing it alone. I feel like it's a really hard job."
And she's right!  Best of luck!