Celebaby: We're All Going On A Winter Holiday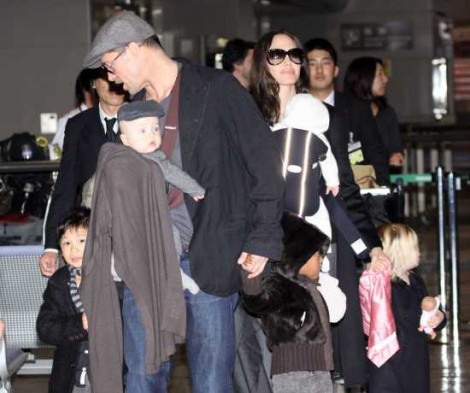 That's what Brad, Angelina and their six kids are singing as they all get ready to pack up to go somewhere 'random' for Christmas.
Comment is often made about the Jolie-Pitts being 'rootless' due to their penchant for moving around a lot; I'm wondering what's wrong with that.
We all know the saying 'home is where the heart is', so what if your heart is all over the world, making the whole world your home?  I think that's pretty cool.
Speaking with American Idols host, Ryan Seacrest, on his show 'On Air with Ryan Seacrest' (you can listen to his show live, by streaming it over the internet if you've never heard it before and want to), Angelina said,
"We're going to travel with the kids and go to a random part of the world; we're going to travel and have an adventure because that's what we love to do."
And whilst Ange' wouldn't be tempted into telling whereabouts this random part of the world was (and let's face it, we'll get to find out sooner or later - they're not exactly inconspicous as a family are they!) she did reveal, when asked, that she's got the present side of the Christmas adventure all wrapped up,
"'I have, and I've got it all boxed and ready to go. I'm trying to get every stocking right and all the wrapping paper and everything."
Well, as long as she remembers not to wrap things before they go - those rather stern Customs people don't like it when you do that - and fingers crossed the secret holiday destination doesn't involve flying in or out of Heathrow or Gatwick Airports, otherwise they could find themselves having a Christmas adventure at home!