Celebaby: Van Outen V Cassidy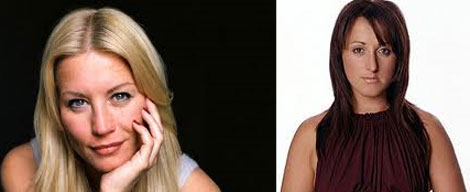 OOOOH the claws are out!  And I have to say that as far as celebrity Twitter cat fights go, this one's rather amusing...at the moment;  I'll be bored of it in, ohhh, 30 seconds or so.
Van Outen V Cassidy
Here's how it's come to pass...
Denise Van Outen - stunning, talented and glamourous woman that she is - had a baby. Then, SHOCK HORROR, she went back to work a couple of weeks after she was born and has recently revealed that she'll be hiring a full-time nanny for Betsy when she returns to the West End.
Natalie Cassidy - not stunning in quite the same way ex-Eastenders actress - SLAMMED her for it, saying,
"'Denise van Outen went back to work after two weeks because she said she needed to feel normal again. 'I just think, "What have you had a child for? Having a child should be your job!""
OOOOOH!!!!
Then a few weeks ago Natalie had a baby, Eliza, and is now doing the rounds on the media circuit promoting her reality TV show 'Becoming Mum'.
It got Denise SO hot under the collar that she took to her Twitter account and did some of her own SLAMMING back!
"Natalie Cassidy criticised me for going back to work after having Betsy. Natalie's on Lorraine show now promoting her reality pregnancy/new mum show. Isn't that work???? She said she did the show for money, so yes, that is work. Pot calling!!!!"
But DVO didn't stop there!  OH no! She really got into her stride and went on to say/write about selling the happy family photos...
"We put our family picture out press to raise money for Great Ormond Street, she did a family shot and put the money in her pocket. 'She can stick her trumpet where the sun don't shine ...hee hee!!!"
MEEOOWWW!!