Celebaby: The Ultimate Celebabies
When I write things for Celebaby I tend to automatically think of little celebrity tots with whimsical parents who pander to their every whim and desire, but there are of course the grown up celebrity kids too who have a serious role to play in society; Princes William and Harry have to be the ultimate Cele'babies' don't they...?
"We think of our mother every day..."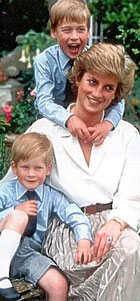 I'd been to a wedding on the Saturday and didn't get up until mid-Sunday morning; every channel was talking about Princess Diana being dead! All presenters were wearing black and everything became very surreal.
Going out and about that day things just seemed to quieter than normal and there were hushed whispers of, "those poor boys..."
I'll never forget the close up shot of their flowers on the coffin with just the word 'Mummy' written on the card.
That was 1997 and Princes William and Harry were just 15 an 12 - what of them now?
I'm not a big royal fan but I think they've grown into remarkeable young men who are pretty 'normal' bearing in mind the lives and family they were born into.
They do an emormous amount of work for charity and I think can be forgiven the odd drunken moment or two!
"Every day, I know I do and I'm sure William does as well, whatever we do, wherever we are and whoever we're with, I particularly always wonder what she'd think, what she'd be doing if she was with us now," reveled Harry, in a recent interview with the Daily Mail;  both the boys are currently on a trip to Africa.
"If she'd be sitting here having a laugh, whether she'd be in the background sticking her tongue out or whether she'd be playing football with the children. That's what keeps us going every day – that thought of what would she be like if she was around today."
They were also asked whether they thought Diana would be proud of their charity work; you've got to love obvious interview questions, what are they going to say? 'Nah, we don't think so, we reckon she'd be pretty disppointed actually!'
Of COURSE she'd be proud! Heck, I'm 'proud' if The Teenagers actaully manage to get through a whole day doing the things they're supposed to do and not being obnoxious!
"She'd be very proud of what Harry's done with Sentebale bearing in mind that it's actually his own charity that he started, hopefully she'd be really chuffed," said William.
I think that's a pretty safe bet, don't you?
If you want to see and hear more about what William and Harry had to say, then tune in to ITV tonight at 7.30pm for their interview on the Tonight programme.
Yep, they're definitely ultimate Celebabies for me.