Celebaby: Tamara Ecclestone Expecting A Girl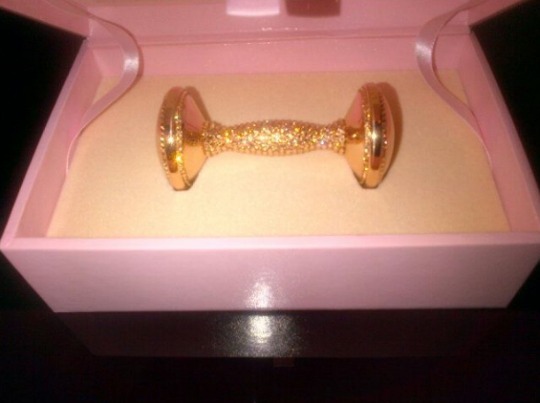 It seems Tamara Ecclestone is expecting a baby girl, if the snap she posted to Twitter of the invitations to her baby shower are anything to go by.
The heiress took to Twitter to share a snap of the invites - a gold rattle in a pink box - and wrote:
"The most beautiful baby shower invites I have ever seen I have the worlds best sister"
You definitely can't buy those baby shower invites on the high street.
The Daily Mail reports:
"After announcing the news of her pregnancy, Tamara, who is married to Jay Rutland, told MailOnline in September she hoped to have a girl - and wanted her to child to be close to her younger sister Petra's baby daughter Lavinia."

"'I want them to be as close as me and my sister. And I would just love to have a little girl who would be super close to Lavinia', she said."

"'There's only going to be a year between my baby and Lavinia so that would be amazing. Lavinia is the cutest little pooch in the world. I'm definitely going to find out the sex!  I need to know, I need to plan."

"Since then, Tamara - whose Show Beauty hair range is on sale at Bergdorf Goodman in New York - has been sporting a very neat bump."

Neat is the word - I gave birth several months ago and I still look more pregnant than Tamara does, and she's reportedly 7 months gone!