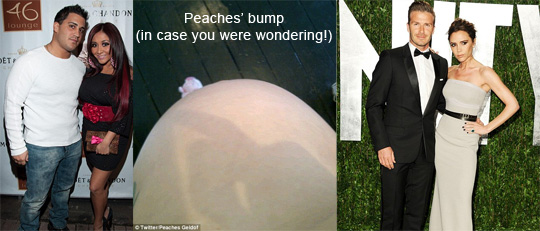 It's all a bit bitty again in the world of Celebaby (not bitty in the Little Britain sense - wow, have they ruined that word for me! *shudder*)
I have no clue who Snooki is; even having looked up Jersey Shore, I'm still none the wiser - but just in case there are massive Jersey Shore fans who read Celebaby, she's pregnant and at a mere 4ft 9in tall, if she's one of these girls who really fill out when preggars she's going to be as round as she is tall come her due date!
Someone else who's pregnant - and who I have zero knowledge of - is Vanessa Minnillo.  WHO is she?  If you know who she is and you're a fan then she's someone to add to your bump watch list too.
Moving on to someone who I do 'know' - Peaches Geldof has tweeted a picture looking down over her baby bump with only seven weeks to go, she's reached that stage where she can't see her feet any more; ohhh I remember that well.
I've also read that despite the fact Peaches' son has yet to be born, his mummy has already been nominated as a candidate for Mother of the Year - work THAT out!
Whitney Houston's daughter, Bobbi Kristina, has also been revealed as the sole beneficiary of her late mother's estate.  I've read reports that say how 'lucky' she is that she'll never have to work or worry about money, having inherited some £20 million.
Are they insane?!  I think we can categorically say that that little girl (which is what she is when you're my age) would give absolutely anything to have her mum back; ANYTHING!!  There is no amount of money that can replace your mum's arms around you when you need her.
Oh, and one last bit of 'news' - after constant comment in the press about her miserable face she's spoken out about it, here's her explanation:
"XXL sunglasses and a slightly sulky pout are my ways of protecting myself. All the fuss makes me feel ill at ease. I realise that makes me look pretty silly but so what?"
Try putting a smile on your face and find out the world won't stop turning after all...?  It's just a suggestion!