Celebaby: Shunning The Sky High Heels In Favour Of Flats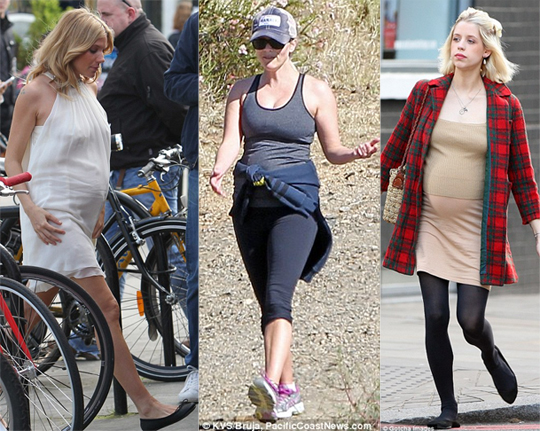 The tide may just be turning for pregnant celebs wearing ridiculously high heels and OTT outfits; hurrah!  
Reese Witherspoon, Kourtney Kardashian, Sienna Miller and Peaches Geldof have all been photographed looking FAB, understated and without heels that would make 70s platforms look tame.
I love these girls for keeping it 'real' and sensible.  I wonder if we'll ever see a preggars celeb' looking as shocking as I did when I was expecting, now THAT would be something!
Other bits and pieces...
We're still waiting for Jessica Simpson to put us, and her probably, out of our misery and have her baby; in the meantime, David Tennant has become a father for the second time in just six months!
That's not as 'weird' as it first sounds (or as dodgy) - he's formally adopted wife, Georgia Moffet's, 10-year-old son; awesome.
"My baby is almost a year old and I adopted my wife's boy last year as well so I became a father twice in six months - that's got to be something of a record hasn't it?"
How can their first baby together be almost a year old already?! Honestly, has someone altered time to make it run faster?  I just don't know where the days and months are going!
On Tuesday I told you about Hugh Grant 'liking' his baby daughter.  Well, maybe he's just more comfortable and doting with kids who are a little older - he took Liz Hurley's (of ex-girlfriend and that safety pin dress fame) 10-year-old son to the premiere of his new film 'Pirates'.
I swear Suri Cruise eats out with her mum, Katie Holmes, more than she eats in! At least that's how it feels, they're always being snapped dashing into restaurants and cafes at various times of the day.
Last week she went out for dinner with her mum and grandmother, it was obviously a later evening affair as Suri went dressed in her pyjamas and dressing gown - nice to see her opting for comfort over style and planning ahead for falling asleep in the car on the way home.
Now, come on Jessica Simpson - I'm getting bored of waiting now!