Celebaby: Potential Simpson Scandal?!!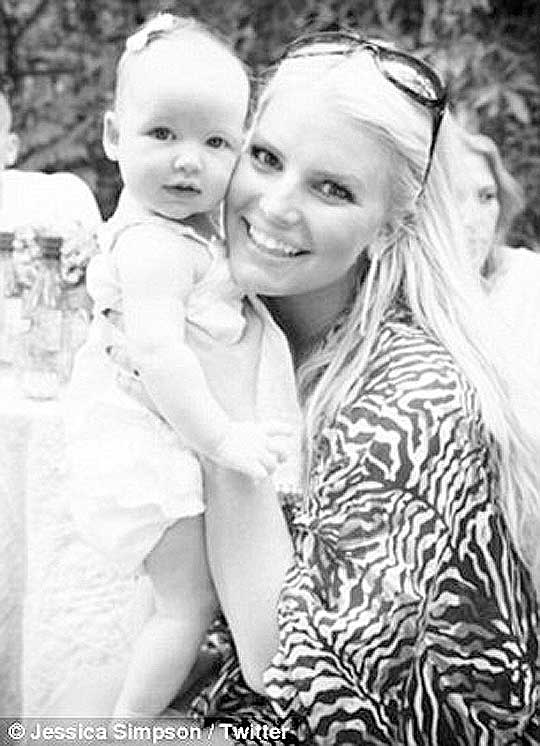 OOOH this could be interesting; or it could turn out to be nothing - you know how potential scandals can be!
So, we all know that Jessica Simpson refused to confirm her pregnancy for months and months and months, whilst she attempted to land a lucrative exclusive 'Hey, guess what?  I'm PREGNANT!' deal - which, of course, didn't materialise because:
1) she wasn't high profile enough for the press and media to offer her enough money; and
2) her maternal condition became so obvious that there was nothing exclusive about the news.
Then, we watched her pile on between 70 and 80 pound,s at a staggering rate, due to eating up a storm, "I had buttered Pop Tarts... I'm eating a lot of stuff that I ate in my childhood. Kraft Mac n' Cheese, Pop Tarts, Cap'n Crunch. Everything's filled with sugar!"
Not too long before baby Maxwell was born a substantial endorsement deal was brokered with Weight Watchers - Jessica had (still has to) lose a certain amount of weight before a certain date to receive a $4m ish bonus pay out.
Maxwell arrived on 1 May and the weight loss race was ON, but it turned out not to be as Jessica thought it was going to be, "I let myself indulge in everything I wanted because it was the first time I was ever pregnant, and I wanted to enjoy it. I wanted to be happy and eat what I wanted... I didn't realise it didn't all come off with the baby."
'I didn't realise it didn't all come off with the baby' - that has to be my most favourite quote ever! Poor Jess, what did she think was going to happen - that she'd arrive at the delivery suite looking enormous, have the baby and walk out as a slinky size 6?  Please! I don't buy the 'I didn't realise...' ignorance at all.
Anyway, the Weight Watchers ad' was recorded (and it's more cheesy than the Kraft Mac n' Cheese Jess had been eating during her pregnancy, have you seen it?!), her first TV appearance made and the weight loss target still a little way off.
In the advert, Jess describes herself as, and I quote, "...there is a lot of pressure to lose weight but I'm not a supermodel. I'm just Jessica trying to eat real food in the real world."
However, a 'source', close to two gastric band surgeons in the US, is now claiming she's actually 'Jessica, whom was turned down twice for weight loss surgery'.
Speaking to Radar Online, they said, "After her daughter, Jessica felt there was no way she could lose the weight on her own as she has struggled so much in the past and her post partum weight seemed to be growing. So like a true Hollywood girl, she sought out a quick surgical fix - lap band surgery."
Unsurprisingly there's been no comment from Jessica's 'people', but if there's fire behind this particular media smoke then there's certainly going to be trouble ahead; WeightWatchers aren't going to be very pleased AT ALL!