Celebaby: Being a Mum Martyr and Who's Due?
In this edition of Celebaby, Keri Russel talks about the mission impossible of mum-martyrdom and we'll be having a look at who's due in the world of celeb' land over the next few weeks.
'Do not be a martyr - it's not helping anyone'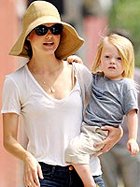 Extraordinary Measures and Mission Impossible III actress, Keri Russell, has admited that trying to do absolutely everything on the parenting job-sheet for the first year of her son's life was perhaps a mission impossible.
Whilst pregnant with River, now two-and-a-half, Keri had said that she really wanted to be a hands-on mum, "The idea of having someone's help, a nanny, somebody else in your space, does not sound good to me.  I'm too much of a control freak." And for the first year this was how things went with River not being left in the care of babysitter at all, "I just thought I had to do everything."

Keri says the most valuable piece of advice she's had since becoming a mum came from a friend who emailed her one day and said 'Do not be a martyr; It's not helping anyone.'
I have no idea why, as first-time mothers, we get this idea into our heads because any mother a few steps further along the parenting road will have already imparted enough words of wisdom to fill a motherhood encyclopedia, and among them will be 'don't feel you have to do everything; accept help when it's offered, ask for help when it's not, make sure you get a break!'
You need that break to do something just for you so you can keep hold of your identity and not become just 'so-and-so's-mum' and no matter how much you think you're the centre of your baby's universe, them spending time with people other than you is GOOD for them too!
Who's Due?
Up next on the due-date calendar is 28 year-old singer Christina Milian who's expecting her first baby with her husband, 'The Dream', at the end of this month - here's hoping everything GOES like a dream for both mum and baby in the next couple of weeks.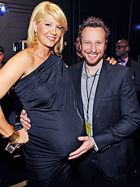 Jenna Elfman  (aka Dharma from Dharma and Greg) is due next month with her second child. She says she's showed a lot earlier than the first time (yep it's even worse with the third!) and wonders if it will stop growing or just get, and I quote, "humungous!" My money's on humungous and I must confess to being totally mesmerised by her low-slung bump and how amazing she looks.
Actress Rebecca Gayheart and Grey's Anatomy star hubby Eric Dane are also anticipating the patter of tiny feet in March; tiny little girly feet at that and when asked whether his new daughter would have a MAD celeb'name or a normal one, it will apparently be neither.  Eric wouldn't be drawn on revealing the name, simply saying instead, "We've got a short list... I just wanted to keep it straight down the middle."
So it looks like we'll just have to wait and see...let's hope she doesn't end up being Jane Dane!