Celebaby: I Know She's In A MonoKini But...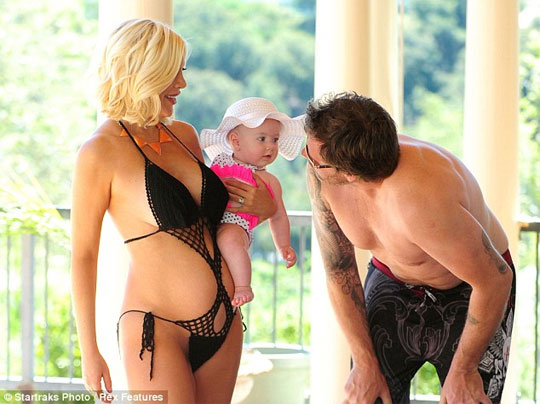 So the latest pictures of the always preggars Tori Spelling shows her in a monokini - I don't know ANY one who can pull off these heinous crimes against beach and poolside fashion, let alone when they're pregnant, but tell me Tori Spelling hasn't just done it!
I'm more than bewildered by her love of baby carrying - I swear if she could stay pregnant forever then she would - but I'm even more bewildered how she has managed to look so good in this black skimpy get-up; my body is a bit of a temple (I'm being serious) and even I would look terrible in it.
Anyway, the next Spelling arrival isn't that far away from making their debut into the world - place your bets now as to how long it'll be before she's expecting the next!
Talking of debuts, Jessica Simpson's daughter Maxwell has made her first public appearance on the cover of US People magazine in exchange for a reported $800,000.
On her new motherhood, Jessica has this to say, "My life has completely changed. From how I sleep to what I think about, Maxwell has definitely taken over everything!  It's the worst if I have to pump and give Eric a bottle to give her. I miss holding her and having that closeness."
So there you go, 'earth shattering' news from the world of celebrity parents - you can go about the rest of your Thursday feeling up-to-date with the latest in the lives of Spelling and Simpson.