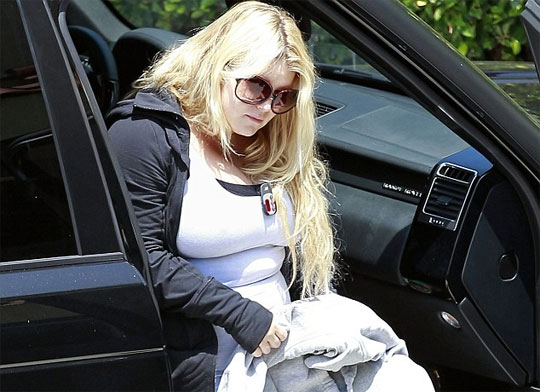 It's all a bit of a mish-mash in the world of Celebaby.
Uma Thurman's third baby is due to arrive sometime in July and from the latest pictures in the press, it looks like that won't be a moment too soon; there's been no official word as to whether Uma's expecting a boy or a girl but word being thrown around by the rumour mill is that it's a SHE.
I'm not sure what to make of Snooki; I've never watched the reality show she spawned from but, from what I gather, it was all about being OTT and partying a lot.  It's always a bit dodgy, I think, if your celebrity is based on your life because what happens when it changes, as it has for Snooki?  What if people don't like the new you?  Your 'celebrity' will go down the pan faster than your TV show ratings.
Well it seems, if we believe what she's saying, that Snooki isn't bothered about that and isn't planning on returning to her former hedonistic ways...
"I think that'd be very trashy if I did that," she has revealed.  "When you have a baby, it changes your entire life and of course I'm going to go out some nights and go out with my girls and have drinks, but, you know, your baby is your life now and I'm excited to be a mom!"
Jessica Simpson is reportedly struggling with the stress and pressure of being a new mum (I almost wrote 'mom' then! *gasp*) and being the new face of WeightWatchers.
As that new face she's been set, or set herself, the target of losing 50lbs by the end of the year - she currently weighs 180lb and wants to get back to 130lb; that's 12st 12lb down to around 9st 2lb, or 81.6kg, in new money, down to 59kg.
There are some 27 weeks left until the end of the year (that's a rather sobering thought - better start making your Christmas shopping lists!) which means she'll need to shed, on average, about a kilo a week (there are 2.2lb in a kilo, just in case you weren't sure).
It's do-able but she's going to need to be consistent, not fall off the wagon and chill out - getting stressed out about it all will not help her in the slightest.
Perhaps she should just focus in the reported millions of dollars she's being paid by WeightWatchers - I'd happily work my backside off to lose a kilo a week, every week until the end of the year for that (if I had any kilos to lose that is!).