Celebaby: Lourdes Caught Smoking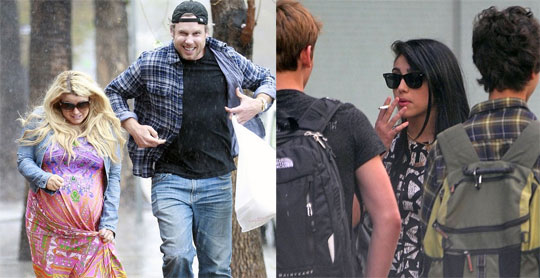 There's nothing major happening in the world of Celebrity babies - just the odd little snippet of 'stuff' here and there.
Sharon Osbourne will be tweeting like crazy in a few of weeks, I'm sure, as son, Jack's, baby is due to arrive soon.  She's very excited about becoming a grandmother and has already admitted she's going to spoil her grandson or granddaughter something rotten - I think it would be rather cool to have Sharen and Ozzie as your grandparents.
I have two teenagers, as many of you already know, and so far I've got away scott free with the teenage years - neither of them smoke, neither of them drink and they have no interest in minlessly hanging 'around town' (one big advantage of living in the middle of nowhere).
Madonna's daughter Lourdes (15) has been snapped smoking and the pictures printed in various national papers - there'll be no trying to con her parents that 'it was my mates who were smoking and the wind blew it onto my clothes from them! HONEST!' for her; Lourdes, you've been BUSTED!
We're still waiting for Jessica Simpson; who was it last year who seemed to be pregnant FOREVER...?  PINK! That's who it was!  And, I tell you, if Jessica's baby stays put much longer she may well end up having to be rolled into the delivery suite - in the latest JS pictures she's looking rounder than I've seen a pregnant woman look for a long time.
Apparently, by her own admission, she's put on 40lbs - that's 18kgs or the best part of three stone.  That's not so bad in the grand scheme of things - I used to be able to do that between Christmas and the beginning of April every year without being preggars, there was no need to ask 'who ate all the mince pies and just didn't stop'!
So what do we think - will Jessica have her baby this week or will she have an April baby?