Celebaby: The Great Jackson Conspiracy?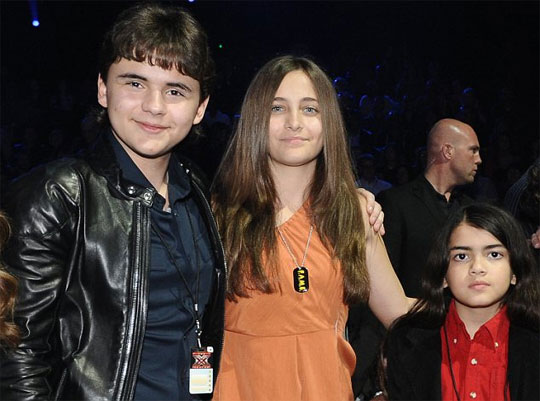 Honestly, you couldn't make up the entire Jackson family story from start to finish, and if you pitched the idea to a book editor they'd tell you to 'go away' and come back when your plot wasn't far too far fetched!
I have to confess to being utterly intrigued, bemused and, if I'm honest, just a little bit worried for Prince Michael I, Paris and Prince Michael II - I'm just glad they seem to have their heads screwed on and have already proven their strong and resilient in the face of extreme circumstances.
The latest drama seems, to me at least, to have sprung up out of nowhere and has some quite sinister undertones to it - if there is a plot to overturn Michael Jackson's will, if Katherine Jackson (the matriarch of the family) has been drugged by her own children because they want a share of the enormous MJ estate, that's now very much back in the black since his death, the fact that it's the Jackson family makes it all the more believable.
There are so many claims and counter claims being bandied around at the moment, along with siblings and relatives engaging in open war, it's hard to tease out fact from semi-fact and complete fantasy.
Katherine Jackson was granted custody of her three grandchildren after Michael died and things have been seemingly calm since then.  However, the world became alerted to the fact that all was NOT well when Paris tweeted that she hadn't seen or heard from her grandmother for NINE days!
Katherine left the house to go and see her sons in concert; she never made the concert and she didn't return home.
Janet Jackson was allegedly caught on camera hurling abuse at Paris and slapping her!
Rumours that Katherine was kidnapped by some of her other children and drugged are rife, even some of her lawyers fear this is the case.
I don't have a big enough word limit to cover all of the weirdness that's going on - but a court in the US has given temporary custody of the three Jackson siblings to their cousin TJ Jackson; thankfully, they're more than happy with this.
Katherine Jackson has subsequently appeared on TV to issue a statement declaring her devastation at this decision, that allegations of kidnapping are ridiculous and that her departure was planned all along because she needed a break.
The thing is, WHY didn't she tell the kids that was the plan?  Surely she would have known her sudden disappearance would have caused them massive concern and upset.  It all just sounds a bit 'strange'.
TJ told the court how he was worried about his grandmother, "I've never heard my grandmother talk like that," he said, "She wasn't sharp. The pauses, choice of vocabulary... she has not used certain phrases like that before."
Paris Jackson seems to be doing her best to keep calm and is refusing to be silenced, she's posting daily updates on Twitter and keeping the world informed as to what's going on, and how she's doing, as much as she can.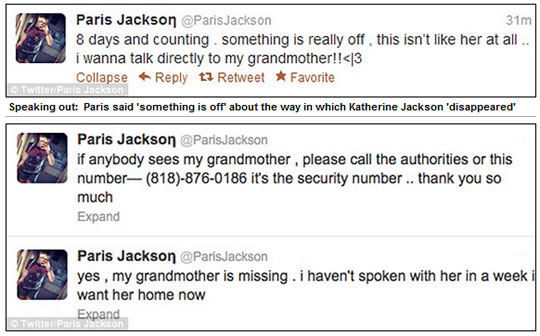 Like I said, you couldn't make it up and if there IS a plot/conspiracy going on then I hope the perpetrators don't succeed - Prince Michael, Paris and Blanket have been through enough already, don't you think?!
However, with a share of $500M dollars at stake - Michael Jackson left it all to his mother and the kids, nothing to anyone else in the family - I rather doubt this is going to blow over any time soon.