Celebaby: It's A Family Affair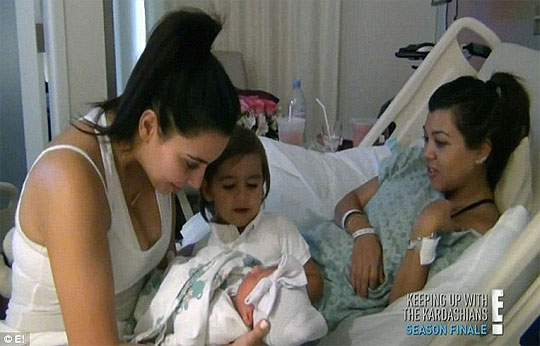 Now I know some families are close, but there's close and then there's close a'la the Kardashians close!
I've never watched, and never will watch, an episode of whichever Kardashian TV show is airing at any given moment, so you'll have to forgive me for not knowing where in the Kardashian sibling heirarchy Kourtney Kardashian sits.
Anyway, she was the pregnant one and has given birth to her baby, Penelope Scotland, with almost her entire family present, that's: her long-term boyfriend, her sisters Kim and Khloe, her brother Rob, her half-sisters Kendall and Kylie along with their mother, Chris Jenner.
Not only were the family all in attendance but so was a full-blown film crew who were there to capture the whole event for the TV show.  Oh, and Kourtney also pulled the baby out herself, according to Khloe this is something her sister likes to do - whatever does it for you, I suppose.
The only time I've had anyone else present at a birth, other than midwives and my children's father, was when I had my youngest son, Edward; I had him at home and the 'rules' state that another grown-up must be present, other than the father, who can be a runner for the midwives.
But the thought of having my entire family there...NO THANK YOU!!
So what about you?  Would you mind, have you had your entire immediate family present for the birth of your child(ren)?  Or would you rather they waited outside?