Celebaby: Please Explain This To Me...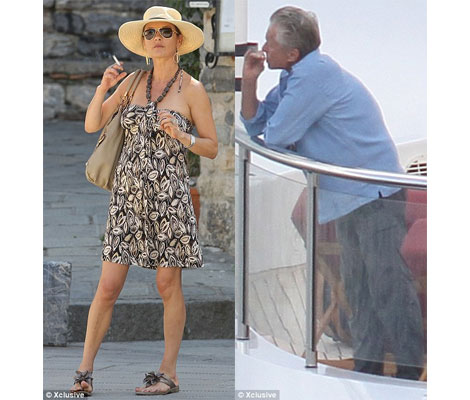 So, here's the scenario...
You're diagnosed with a rampant strain of throat cancer and facing the very real prospect of shuffling off the planet before you're ready.  You will leave behind a wife and two little kids - the thought of which completely and utterly tears your heart to shreds.
You know you shouldn't have smoked heavily for all those years before but you, along with most people, figured the 'Big C' would target someone else.
Next you undergo the hell that is radio and chemotherapy; the stress and strain of it all takes it out of you and every member of your family.  Will you beat it, or will the cancer beat you?
HURRAH! You beat the cancer!!!  Against all medical odds you've fought your way back to health.
You've been given a second chance; your young children aren't going to be left without a father and your wife is relieved she's not going to be a widow.  The whole episode has really affected her though and it turns out she's bipolar - maybe not as a result of your illness, but it certainly won't have helped.
Now you've got the all clear, what are you going to do?  Make sure you don't invite death to have another go at you, right?  Look after and value your health, yes?
Anyone in their right mind will be nodding away in agreement.
Not if you're Michael Douglas and Catherine Zeta Jones though, oh no!
As they've both been pictured merrily smoking away recently, I can imagine they'd just roll their eyes and spark up another fag, because CLEARLY lightning isn't going to strike them twice!
Obviously there are different rules for Hollywood royalty than there are for the rest of us mere mortals; silly me for thinking anything else.
Don't get me wrong, I've smoked my fair share of cigarettes in the past but not any more; if I'd fought off throat cancer and was able to look forward to seeing my children grow up, when I really thought I was going to have to say goodbye to them, I can GUARANTEE that I would NOT go near a cigarette again.
Let me clarify that - I can GUARANTEE I'll never go near another cigarette again and I don't even need to have throat cancer before I make that decision.
I'm really beginning to rant now - PLEASE, tell me I'm not in the minority here.
I've read what the psychs have to say on the subject, that people often don't quit once they've been diagnosed because they figure the damage has already been done - I get that, in a weird kind of way.
But to carry on smoking when you've been diagnosed, told cancer to GET LOST, won the battle and come out the otherside?  UTTER MADNESS and, quite frankly, bloody irresponsible!
Imagine how those kids would feel...
"So let's get this straight...Dad had cancer, fought it, beat it and was given a clean bill of health..."
"Yes, that's right."
"Then he started smoking again and now he's dead."
"Yes, that's right."
"Gee, THANKS dad! Cheers for ranking cigarettes above being there for us as we grew up; just awesome, what a guy!"
I'm going to step away from the keyboard now; I'm not sure it can take much more angry typing abuse *mutter, mutter*