Behold these bumptastic blondes with babies on board.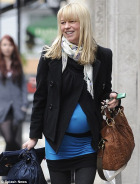 Radio 1 DJ Sara Cox is seven months pregnant with her third child and had this to say in a recent tabloid interview:
"I can't wait," says Sara. "But we've no idea about names yet, so ideas on a postcard please!
"At this rate the baby might end up being called Number Three. We don't know if it's a boy or girl yet but I think my daughter Lola wants a little sister. She wanted a girl the last time and then Isaac arrived.

"But he has no idea what's on the way - even though I keep pointing at my belly and saying 'baby'. He's not even two yet so he won't know what's hit him - oops!"
Meanwhile TV presenter Denise Van Outen was  spotted out and about in a stylish stripy tee this week.
The expectant first-time Mum whose baby is due in May, recently revealed that she and husband Lee Mead are expecting a little girl.
She also admitted that they already have a nickname for their daughter... Teapot!
Kudos to these celeb mums for showing us how cool maternity style can be. It's not easy to dress a bump without looking like a sack of potatoes, but these Mamas have it all covered. We like. Nice work, ladies!