Celebaby: Daughters and Sons For De Niro and Dido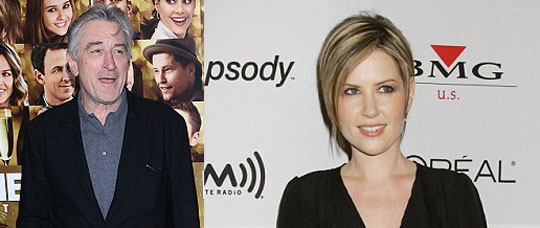 Well, either I've not been looking in the right places or Robert De Niro and Dido chose not to shout and scream their pregnancy minutiae from the roof tops!
Robert De Niro
Robert Di Niro (68) and his wife, Grace Hightower De Niro (56) have welcomed a daughter into the world via surrogate.
Mr De Niro now has a grand total of six children ranging from 40 years old to brand new and this latest little addition has been named Helen Grace Hightower and weighed 7lbs 2.
Despite the six children having three different mothers, Robert De Niro is pragmatic and devoted when it comes to all matters fatherhood...
"One of the most important lessons I've learned in my years as a father is to keep the lines of communication open with my kids. I care deeply about all of them, and I have made a conscious effort to talk to and to listen to them.
Sometimes it's hard to talk to kids, especially when they're teenagers. They're in their own world, and they don't look like they're even listening to you but that's the time when it's most important to find a way to talk to them - not to lecture them, but to tell them things I think are important for them to know."
Sound advice and he's right, whenever I open my mouth to impart some parental wisdom to my teenagers they DEFINITELY don't look like they're listening to a word I say.
Dido
Now I didn't even know Dido was preggars! I know she's not one for living her life in the spotlight, but even so, and having done a bit of Googling around the subject it seems she's not kept it secret, it just passed me by - shame on me.
So, apparently, she was supposed to perform at the Oscars earlier in the year and cancelled due to her pregnancy, saying,
"Hello everyone, It's been a month of amazing news for me and now I have some more to share. Me and my husband Rohan are expecting a baby and we're beyond happy and excited about it.
So as some of you already know, I won't be able to travel to LA for the Oscars ceremony to perform If I Rise. Obviously I'm really gutted about not being there – going to the Oscars has literally been a dream of mine since I was about nine."
Well, the baby that kept away her away from the Oscars arrived - a little boy who was named Stanley, I wonder what his full name is as his mother's is rather impressive.  Did you know that Dido's full name is 'Dido Florian Cloud de Bounevialle O'Malley Armstrong' - no wonder we just know her as Dido!
Now use the past tense and say he WAS named Stanley, not because anything terrible has happened, but because he was born in JULY!!!  The news of his arrival has only just come to light so I'm feeling much better about not having told you about this 'secret' celeb' baby sooner.