Celebaby: Another case of 'Congrats Dad and Dad'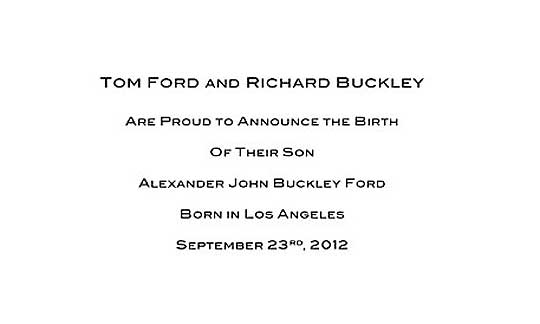 Tom Ford, 51-year-old fashion designer of note (just in case you were thinking 'WHOOOO?!'), has become a father for the first time with his partner of 25 years, Richard Buckley (64).
Their son, Alexander John Buckley Ford (what a fabulous combination of names), was born on Tuesday 23 September via a surrogate (obviously!), just don't expect to see any pictures of young Alexander any time soon, or for the next 18 years maybe!
Speaking to the press last year, Tom said, "I always said I wanted to have children. And as I got a little bit older, Richard, who I live with – we've been together 24 years – did not want children and so I decided not to have children. But if I have children, no one will know about it until the child is born.
And no one will ever see the child because I certainly wouldn't use it as a press tool. If I have a child, you won't notice that I had a child. Maybe you'll see it when it's 18, but I will keep it out of the spotlight."
So no huge glossy magazine spread then - fingers crossed Tom's comments aren't like red rags to Paparazzi bulls - hurrah for quiet sophistication, style and dignity; congratulations dad and dad!