Celebaby: Breast Is Not Best for DVO and Ronaldo Scores A Son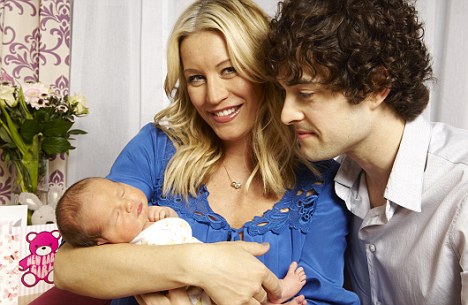 In today's Celebaby - Denise Van Outen on why she gave up breastfeeding and the latest news on Christiano Ronaldo and his new son.
DVO gives up breastfeeding
For most new mums, the prospect of breastfeeding in public is one that will cause them to break out in a cold sweat and feel mildly sick with dread and panic.
Now combime that with the knowledge that almost everyone knows who you are and the paparazzi are likely to be zooming in on you and you can totally understand why Denise Van Outen has already given up breastfeeding.
In a recent interview, Denise says, "I probably should have persevered a bit longer than three weeks but I can't be sitting in Starbucks and breastfeeding, because they [photographers] are taking pictures."
But it's not just the paparazzi she has to deal with, even simple trips to the post office put her in the spotlight and under pressure.
"'Another time, I was at the back of a really long queue at the Post Office to get Betsy a passport, knowing that in the next half hour she was going to wake up and cry, wanting a feed," she continued, "and, sure enough, when I got to the front, that's exactly what she did. I felt so conscious of the pressures of everybody looking, tutting and waiting to see how I dealt with the situation because they knew my face."
Shame, those situations are just hideous for new mums let alone when you may just find yourself splashed all over the front pages of the newspapers with headline writers just WAITING for you to slip up or look flustered!
Ronaldo SCORES....a son!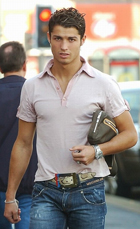 Well let's face it he hasn't been scoring anything on the pitch!It's taken me a while to get my head around this story and I'm rather intrigued to see how it all unfolds!
Football superstar Christiano Ronaldo (25) announced on Twitter and Facebook, a couple of weeks ago, that he'd become a father. Nothing unusual about that, footballers have kids ALL the time, but the difference here is we don't know who the mother is and she doesn't want us to either!
By all accounts she's handing over the little chap to his dad, granting him sole custody and Ronaldo's mum and two sisters are going to raise him!  WHAT is that all about?
Now perhaps I've got it ALL wrong because this is the announcement that Ronaldo made...
"It is with great joy and emotion that I inform I have recently become father to a baby boy. As agreed with the baby's mother, who prefers to have her identity kept confidential, my son will be under my exclusive guardianship.No further information will be provided on this subject and I request everyone to fully respect my right to privacy (and that of the child) at least on issues as personal as these are."
...but I can't help hear him saying 'I can buy anything I want...ooooh! What about a baby! And I can call him Christiano Ronaldo and dress him up in football clothes and everything!'
Maybe I'm being unkind; I wonder if the Brange' and Madonna approach of adopt-a-baby from Africa didn't work...