Celebaby: A Boy For Buble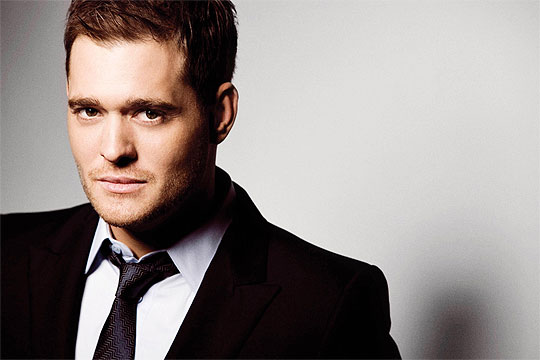 On Saturday, I told you about the (earth shattering) celebaby news that was Alec Baldwin and his wife, Hilaria (which I can't help hearing as 'hilarious', in my head), are expecting a baby girl.
Well, there's been another celebaby gender announcement: Michael Buble and his wife, Luisana (which I can't help hearing as 'Louisianna', in my head. Do you do that? Hear/read names differently to how they're spelled, and once you've done it once you keep doing it?) are expecting a little boy.
It's the first child for both of them, and he's due in August.  Michael has had this to say about the scan and potential baby names:
We are so excited. We have just come from the hospital, and the sonogram was pretty clear, it's a boy! We are thrilled!
'We are thrilled' - it always makes me laugh when people say that, they're hardly going to say they're really disappointed! And as far as names go - well, his wife is Argentinian and, of course, we now have an Argentinian pope.  Apparently she told Michael that it was a sign, but Michael says there's no way they're going to call their son Frank (short for Francis, as in Pope Francis I) even if, and I quote, "...even if it did work well for Frank Sinatra!"
And on impending fatherhood itself, it would seem that the ultra cool, usually smooth Mr Buble is already feeling more than a little nervous:
It's the weirdest thing. I'm scared; I don't know what I'm doing. My friends are basically laughing at me, telling me that I'm never going to sleep again and there's going to be poop everywhere, but I think the good stuff is going to outweigh the bad.
We'll remind you you said that Michael, when you're sleep deprived and wondering if you'll ever feel human again!