Celebaby: Beyonce Shares Family Snaps From Her Tour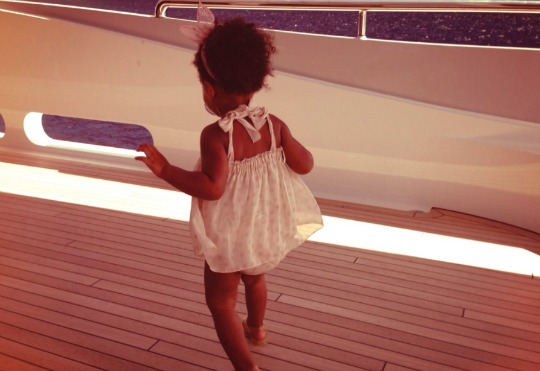 Beyoncé has been showing off some family snaps of her daughter, Blue Ivy, taken while the diva is on tour. Husband Jay Z seems to be along for the ride, as he also features in some of the snaps which Beyoncé chose to share with the world via her 'I Am Beynonce' Tumblr account in an album called 'My Life'.
The snaps from the family album show Blue Ivy exploring a luxury super yacht. As ever with Beyoncé's snaps, her daughter's face is hidden from view, presumably in the interests of protecting the little girls identity as she grows.
The Daily Mail reports:
"It was all go once again this week with the former Destiny's Child singer performing at the Rock In Rio music festival in Rio de Janeiro, Brazil on Friday. The mother-of-one kicked off the Latin American leg of The Mrs Carter Show in Brazil last Sunday and said taking her daughter Blue Ivy on the road with her has made the experience even more special. Speaking at a press conference before her show at the Estádio Plácido Aderaldo Castelão in Fortaleza, she explained;

'It's really interesting because I'm touring with my daughter for the first time and my dream has always been to be able to balance my life and my career. I think it's the one thing that women struggle with because it's so difficult. It makes me proud of my job. It makes me proud that music can impact so many people and bring us together.'"
 Now that's the kind of work / life balance I'd like to acquaint myself with!