Celebaby: The Beckham Boys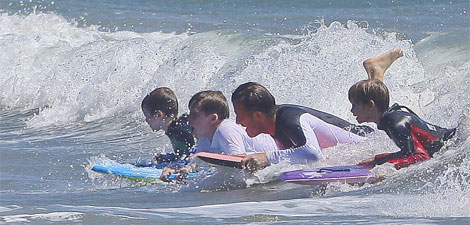 I can't resist it any longer.
The press of a certain kind (ie NOT The Guardian) are full of various snaps and stories about the Beckham boys and their endless days of surfing on the beach in Malibu.
The entire Beckham clan have decamped to a £93,000 a month beach front mansion, owned and rented from Steven Spielberg, so that Victoria can recover from the birth of Harper Seven.
The boys have been flirting with the papparazzi in recent days; Gordon Ramsay has been over to visit with his wife and kids, to see his goddaughter (did we MISS the christening?!) and Victoria's not been spotted at all.
I know it's cynical, but I can't help imagining she's holed up in that mansion exercising like a women possessed and measuring her body fat every half an hour!
WHY would you go and stay somewhere so amazing and not set foot outside to enjoy the sun, sand and surf?  A 'magic' post-pregnancy reveal can be the only logical explanation - I hope she puts a smile on her face whenever she does decide to put in an appearance, I rather doubt it though.
It seems the boys have scant regard for pouting and looking miserable; judging by the pictures of them surfing, it looks like they're having a blast.
Romeo Beckham (8) also seems to have a rather dry sense of humour - he was papped yesterday, on the beach again, wearing a Wayne Rooney Manchester United football shirt. Maybe it's just me, but I think that's pretty funny.