Celebaby: Two Babies To Go With His Two Gold Medals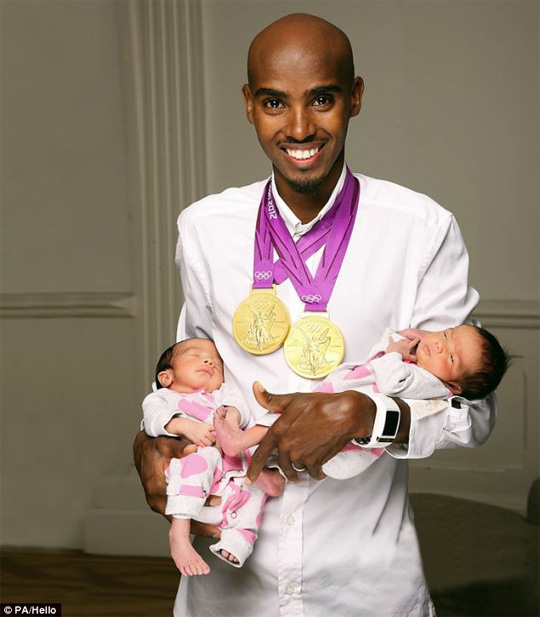 I think most of the nation fell in love with Mo Farah during the Olympic games; if you were one of the people who didn't know who he was before (let alone the 'mobot') then you certainly would have done afterwards.
I was jumping up and down in my lounge cheering him on, so was my daughter and cries of, "C'MON MO!!!" could, I expect, have been heard by aliens in space who just happened to be cruising by our little planet at the time of his races.
Now, just in case you have no clue who I'm talking about (and if you don't, please leave a comment because I'm intrigued to know how Mo Farah managed to pass you by, unnoticed!) let me enlighten you.
Mo is a middle distance runner and he took gold for Team GB in the 5,000 and 10,000m races (they were thrilling, if you missed them you really missed out) and was congratulated on the track both times by his very heavily pregnant wife.
The nation learned that Mo's wife, Tania, was expecting twins at any moment and held its collective breath wondering whether the excitement and nerves of watching her husband race would induce labour - it was stressful enough for all of us NON pregnant folk!
It had been decided that should labour kick off before a race that Mo should not be told, so he could remain focused on the job he had to do.  That wasn't necessary though as the twins decided to stay put a while longer and only made their debut on 25 August.
Having won gold in the 10,000m and before crossing the line first in the 5,000m, Mo joked that he had to win two golds - one for each baby, so one of them didn't feel left out.
The eldest twin has been named Aisha, she was born weighing 5lbs 2oz; the youngest twin weighed a little less at 4lbs 4oz and has been called Amani.
CONGRATS Mo and Tania!