Celebaby: Aled Jones - Proud Dad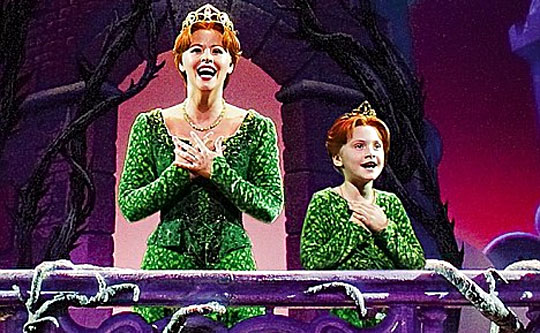 I remember when Aled Jones was a fresh-faced choir boy with a voice high enough to shatter glass (probably).  It wasn't cool to like him, but we all loved The Snowman and, as a result, the 12-year-old Aled will remain immortal.
Aled seemed to vanish off the face of the earth but has popped up on various TV programmes and has been presenting Songs of Praise on a Sunday for a g e s (apparently, it's not something that's ever been on my viewing schedule).
His daughter appears to have inherited his singing talent and is currently appearing as the young Princess Fiona, in Shrek the Musical, in the West End.  Aled has admitted that he's a worried parent.
"I was petrified that first night sitting in the stalls watching her. I looked at the massive theatre and thought, "Gosh, she's nine, what happens if she forgets the words?" because that's exactly what happened to me when singing Memory in front of the Queen at the Royal Variety Performance.
I made up the words and carried on but I had a recurring nightmare about running off the stage crying, "I'm sorry, Your Majesty" for years afterwards. Did I need to worry? No. Mels is not scared of anything. She hasn't got the insecurities an adult has. I suppose my parents had them for me, like I do for Mels."
He's also said that he wants her to get jobs because of her talent, not because of whom her father is, or NOT get jobs because she's Aled Jones' daughter!  Emilia landed the Princess Fiona role on her own merit, the casting director had NO clue that she was Aled's daughter even though he was the one who cast Aled for the lead role in Joseph and his Amazing Technicolor Dreamcoat!
If she's as good as her dad then I don't think he needs to worry; the cat's out of the bag now anyway - we all know who she is!