Celebaby: Gisele and Dannii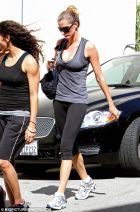 The world's highest paid supermodel has irritated lesser women everywhere in an interview for Vogue magazine in which she shares her tips for how to look good post-pregnancy.
Gisele, who gave birth to a baby boy in December last year, reckons her knock-out figure just months post-partum is down to 'muscle memory'. She says she continued practicing kung fu up until two weeks before she gave birth and carried on doing yoga three days a week.
She also said: 'I think a lot of people get pregnant and decide they can turn into garbage disposals.' In contrast, Gisele says she was mindful about what she ate and consequently only gained 30 pounds.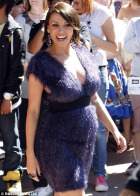 Also this week Dannii Minogue's lovely bump put in an appearance when she was photographed arriving at the Australia's Got Talent auditions in Melbourne. The pregnant star is a judge on the show. Dannii is five months pregnant and is definitely beginning to 'show'  as you can see from these pics.
Dannii reportedly plans to give birth in her native Australia but hopes to be back on the UK's X-Factor in time for the live shows in September. There's no telling what her muscle memory is like but I predict she'll be suitably glam and glowing in time for her return to our screens.