Celebaby: The End of Brangelina?
Sooo the big news on the celebaby circuit this morning is th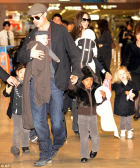 e rumour that Brangelina is soon to be no more. According to newspaper reports, Angelina reckons Brad is 'boring and toxic' while Brad believes the mother of his children needs to see a shrink, and the couple are said to have drawn up an agreement to split their £205 million fortune and share custody of their six children. Meanwhile other magazines report that sources close to the family have dismissed the rumours as nonsense. Clear as mud, then.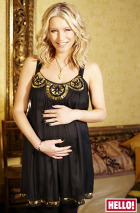 Back in Blighty Denise Van Outen has revealed that she and husband Lee Mead are expecting a baby girl. Speaking exclusively to Hello! magazine, Denise said: "I feel really content. I think finding that out (the sex) has been the most euphoric, emotional part of the pregnancy, because it made it feel real. We didn't have a preference, we just want the baby to be healthy. But it means that we're getting excited about the things that we're going to do, like, "Oh, I'll be able to take her out and buy her a fairy costume!" Denise and Lee's baby is due in May.
Speaking of fairy costumes, check out   Amanda H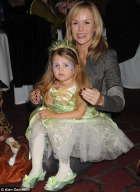 olden and her little fairy princess, daughter Lexi, pictured at the preview of the new Disney movie, The Princess and The Frog. No, I did not just infer that Amanda Holden is a frog. Well, not on purpose anyway.
Anyway cute dress, Lexi, but surely a style icon like Amanda could have explained that the glitzy heels don't really work with woolly tights, no? Bet you wouldn't catch Suri Cruise making a fashion faux pas like that. Still, like all good fashionistas she compensated by drawing attention to her best features. Loving those locks and the fairy face paint. Maybe Mama could learn a thing or two from Lexi?!