Celebaby: Wedding Bells for Brad and Ang'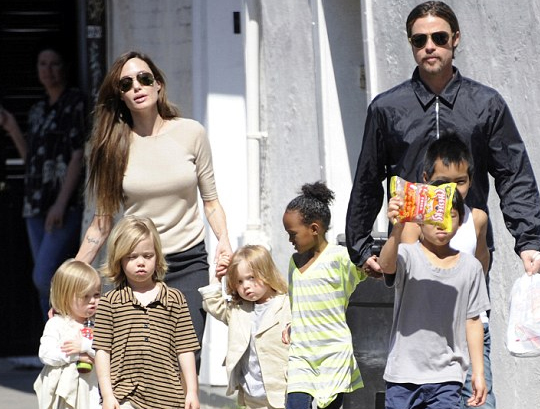 In a world where glamourous and glitzy celeb' wedding are king (you know what I mean) Brad Pitt and Angelina Jolie have always kicked against going down that particular aisle.
Despite both being married before (once for Brad, to Jennifer Anniston, and twice for Angelina) they both famously said they'd not get married to each other until the legalisation of same-sex marriage in the US.
In recent interviews though, it's become apparent that both Brad and Ang' have been coming under increasing pressure for their children to tie the knot.
"It seems to mean more and more to our kids," he revealed back at the beginning of the year, "We made this declaration some time ago that we weren't going to [get married] till everyone can. But I don't think we'll be able to hold out … it means something to me, too, to make that kind of commitment."
Angelina also told how the kids had been asking why they weren't married like Shrek and Fiona, "We've explained to them that our commitment, when we decided to start a family, was the greatest commitment you could possibly have.  Once you have six children, you're committed."
A tough call, hey - choosing between your high-profile moral posturing and the wishes of your kids!
The engagement has been confirmed by Brad's 'people' and described as a 'promise for the future' with no date for the wedding having been set. However, there are massive building works going in on at the sprawling Pitt-Jolie estate in Provence.
There's a little chapel on the £35 million estate and there's a large white, rumoured to be, reception hall being built behind it with a view to being completed by September...in time for a wedding perhaps?
For those who want to know about the ring - Brad designed it, in collaboration, with Angelina's private jeweller Robert Procop and is reported to be worth a $250,000.
"Brad had a specific vision for this ring, which he realised over a yearlong collaboration. He wanted every aspect of  it to be perfect, so I was able to locate a diamond of the finest quality and cut it to an exact custom size and shape to suite Angelina's hand," is the official word from the jeweller.

"Brad was always heavily involved, overseeing every aspect of the creative design evolution.  The side diamonds are specially cut to encircle her finger. Each diamond is of the highest gem quality."
Well there you go then!  I wonder who's going to design the dress, whether it'll have a huge split up the front and whether Angelina will strike 'that' leg pose when standing in it...