Celebaby: Tori Spelling Shocked By Pregnancy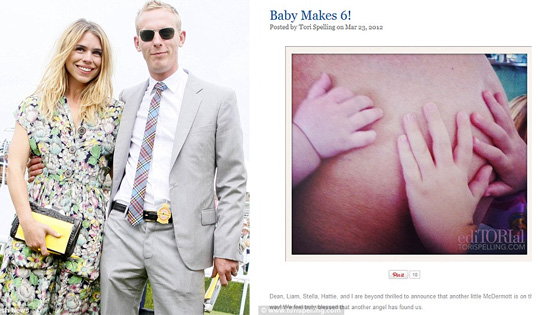 This morning I read that Tori Spelling was shocked to discover she was pregnant with baby number four just ONE MONTH after giving birth to baby number three, daughter Hatti.
That made me laugh! Methinks perhaps Ms Spelling needs a Bird and the Bees refresher course as apparently she wasn't expecting to fall pregnant so soon after Hatti's arrival - erm...it doesn't just happen Tori, a certain activity needs to be indulged in for babies to be on their way.
"It was the second biggest shock of my life," she's been reported as saying, "the first was when they said Hattie was a girl when she was born, because we thought she was going to be a boy. And the second was that I was pregnant after my newborn had just turned one month old. We were shocked!"
The rest of the interview was all a bit 'TMI' for first thing on a Saturday morning over toast - let's just say that apparently Tori's hubby didn't want to wait the recommended six weeks and Tori didn't want him to think 'that' side of their relationship was going down the drain.
Honestly, the pair of them must be at it like rabbits!
In other news...
In other Celebaby news, Billie Piper and Laurence Fox have welcomed their second son into the world.  He doesn't have a name yet, or at least it's not been released to the press but, by all accounts, mum and baby are doing well.
Yesterday, Laurence tweeted, "One born every minute. We had our minute today. Couldn't be happier. Beautiful boy. Everything fine."
Ahhhh, that's lovely - congrats to them.