Celebaby: Stilettos and Stirrups!
Jennifer Ellison and hubbie Robbie Tickle have had a bouncing baby boy! His name?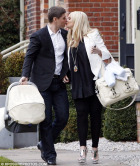 Bobby Tickle, of course! Can't you just hear the deliciousness of that name pronounced in that famous Scouse accent? Brilliant.
Jen was snapped out and about on Valentine's Day with the two men in her life. My absolute fave thing about the pics in the papers are her relentless heels. Not content with the old squeeze-back-into-your-pre-pregnancy-jeans that most of us aim for post-birth, Jen had clearly set her sights higher. There's nothing quite like a gorgeous pair of towering sparkly heels to make you feel like a new woman when you've just birthed a human, eh?
Loving that Chanel change bag, too.
Here at Play Pennies we've been debating whether she might have had those shoes on during the delivery but I say that's an insane idea. Everyone knows stilettos and stirrups do not mix!
Anyway, congrats to Jen, Robby and Baby Bobbie!