Celebaby: Sleepless Sandra And A Girl For Mariah!
Poor Sandra Bullock, she's discovered the delight that is the torture of sleep deprivation and Mariah announces that it's a GIRL!
Whilst you WEREN'T sleeping!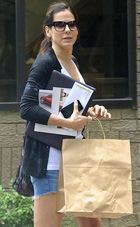 Back in May we revealed that Sandra Bullock had secretly adopted a cute little chap named Louis.
It seems that even frequently surviving on three hours sleep a night (I know what that's like!) hasn't done anything to dampen her new-found motherhood spirits and she's more smitten with him every day; she's also learning LOADS!
"I have been surprised by the fact that I really only need 3 hours of sleep," she says, "I have learned that a little person screaming at the top of his lungs can mean six things…and I will figure out which one it is and fix it."
I rejoiced in the revelation that Sandra's well and truly in the motherhood game, no staff or nannies employed to do the 'dirty work' so she can just enjoy all the nice cute bits, Sandra is very clear on that matter, "I don't want anyone else to have the pleasure of changing poopy diapers but me!"
You've got to love her!
Mariah Announces 'It's a GIRL!' on Twitter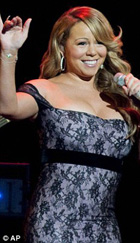 Last week, we mused over the rumours as to whether Mariah Carey is, or isn't, pregnant.
Now maybe I'm just reading far too much into everything but her Twitter announcement made earlier that 'It's a GIRL!' was surely designed to tease us further!
However, it was with reference to her dog 'ChaCha' who had just had a little girl puppy...
"ChaCha just had her baby! Its a girl! Anybody want a beautiful Jack Russell puppy?!"

I'm not a huge fan of dogs that are smaller than my cat, but I have to admit that this picture of ChaCha with her new daughter and a little toy pig is pretty cute.  The puppy doesn't have a name yet and is simply being called 'DaBaby'....hmmm, another baby reference (I'd make a great conspiracy theorist!) is there mischief behind that name too I wonder....?
Who knows?  But it's quite fun guessing.