Celebaby: Has The Sheen Returned For Sheen?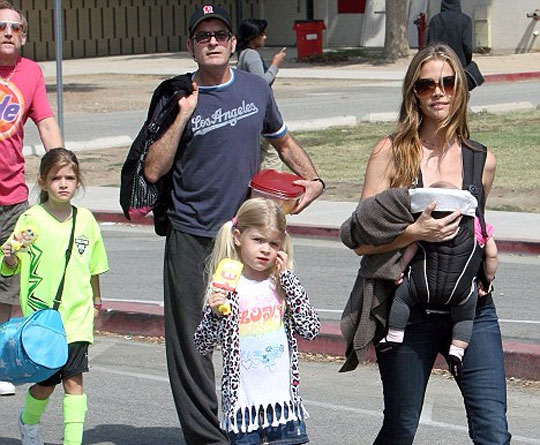 Back in March all media hell broke loose when Charlie Sheen seemed to have gone completely off the rails!
He was sacked from his top spot starring role in Two and a Half Men and his young twin sons, whom he fathered with Brooke Mueller, were removed from his care by police.
He had two live-in girlfriends and claimed at the time that his life, and I quote, "...makes 'Hugh Heffner look like an amateur."
Former wife, and mother of his daughters, also said at the time, "Can't even have the radio on in car with my girls given the news…thank God for XM Radio Disney!! Thank you!!!!"
Well, it seems that things have calmed down a little and that Charlie is, perhaps, setting a better example to his daughters or at least keeping the seedy side of his nature under wraps.
He was spotted out with Denise and their two daughters, Sam (7) and Lola (6), and Denise's newly adopted 3-month-old daughter.
They were all together because Sam was playing in a football match and, according to a Tweet from Denise, was thrilled that her daddy was there to cheer her on...
"Just got back from Sami's soccer game. She did great... Happy to see Charlie Sheen cheer her on. Proud parents!'
Charlie replied by saying, "Nothing better!"
Rather than having to switch off the radio to protect her daughters from hearing things no child should hear about their father, Denise now says they speak every day and also revealed that Charlie was very supportive of her adoption of Eloise.
Okay, so maybe the sheen hasn't returned for Charlie Sheen in all aspects of his life but at least he seems to be making an effort for the girls.
What a difference six months makes; long may it continue!