Celebaby: Shakira's Hips Don't Lie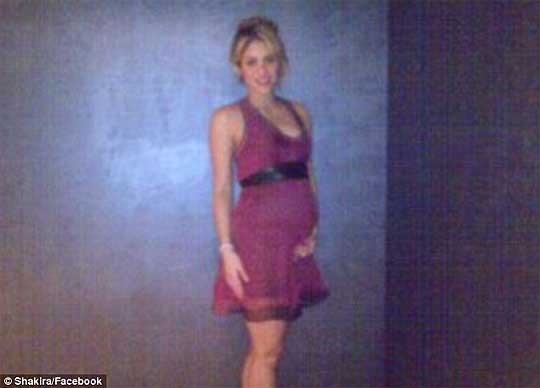 Of all the cheesy headlines I've come up with for Celebaby, 'Shakira's Hips Don't Lie' has to be one of the worst (or best, I suppose, depending on your point of view).
Her baby news was announced last month...
As some of you may know, Gerard and I are very happy awaiting the arrival of our first baby! 'At this time we have decided to give priority to this unique moment in our lives and postpone all the promotional activities planned over the next few days
Shakira is six months gone already; on Sunday she posted a picture of herself, still looking rather fabulous (albeit a little blurry and fabulous) on her Facebook page along with the caption, "Now I don't have a six pack, only one pack!"
Our friends over at the rumour mill got themselves into a bit of a tizzy over Eva Longoria last week - she wore a black dress to a charity event that...how can I put this nicely..?  That didn't 'fit very well'.
Then she was photographed a few days later, in New Zealand, wearing a dress that ruched around her middle - well it MUST have been a maternity dress then, ordinary dresses simply cannot be allowed to ruche around the stomach!
The rumours have been strongly denied by Eva's 'people' with the issuing of a statement, saying, "Rumours of the couple being pregnant are false and absolutely not true."
That clears that up then...until the next set of photos taken from an unflattering angle emerge or, heaven forbid, there's a hint of roundness around her middle; crazy rumour mill nutters (just you wait, there'll be a pregnancy announcement now I've said that!)