Celebaby: Reese Witherspoon Next?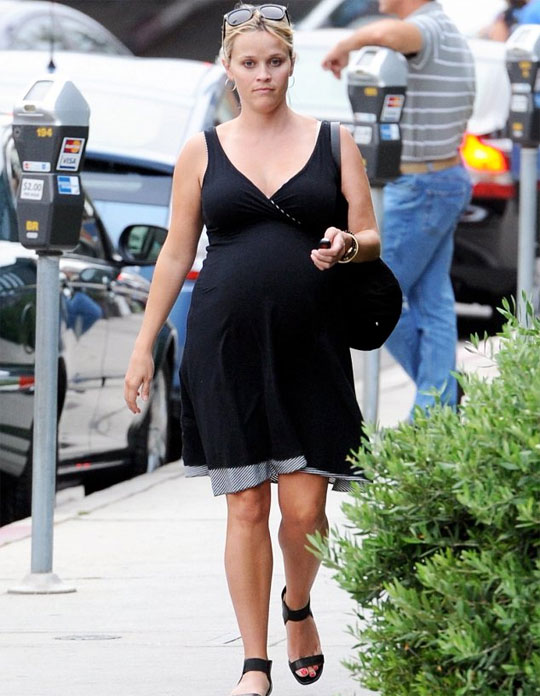 There are quite a few celebrity baby arrivals just around the corner, I can't remember all of them off the top of my head - but Robbie Williams and Snookie-whats-her-name are the two that spring to mind (I'm not sure if I should be alarmed about that!).
However, Reese Witherspoon could well have her baby before either of them, even though she's not due for at least another couple of weeks; it's been reported that she was rushed to hospital on Tuesday with 'complications', allowed home that evening but was subsequently readmitted yesterday.
There's no whisper as to what these complications might be and Reese was photographed out and about yesterday and she was looking fabulous!  No silly high heels, no 'trying to hard to look good whilst preggars' fashion disasters - she just looked effortlessly elegant and relaxed in a simple black dress and flat shoes.
Whether her admission was really due to complications, or merely a precaution, I hope all is well and if the baby does arrive a little early that he, or she, is okay.
Sometimes celebrity babies slip under the radar - WHEN did Bruce Willis, now 57, become a father again?!  Well, the answer is four months ago as his new(ish) daughter Mabel Ray is that old - but how do I not know about this?
I certainly don't remember writing about her arrival, there's nothing in the Celebaby archives about her either, so have they been keeping her under wraps or WHAT?!
Well it would seem so!  She was born on 1 April this year and having done some digging around, reports are all suggesting that she's only been seen once before in May and that was only in a photograph posted on Twitter by her mum, Emma.
Well, I can't say I blame them - even though quiet and coy celeb' parents don't make for very exciting Celebaby stories (and there aren't many of those floating around these days!) - if you can stay under the radar and enjoy some peace and quiet away from the press and the public, why wouldn't you!